40 Years Ago: 'Beck, Bogert & Appice' Album Released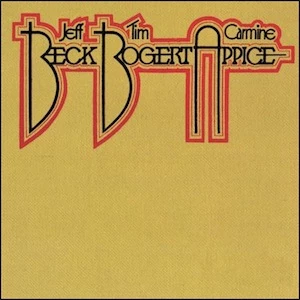 In an era rife with hastily assembled supergroups, the union of guitarist Jeff Beck, vocalist/bassist Tim Bogert and drummer/vocalist Carmine Appice into a power trio named simply, uh, Beck, Bogert & Appice was unusually long-in-the making.
Although the power trio's eponymous debut album was released in March of 1973, the three men had first discussed working together as far back as 1967, when Bogert and Appice still constituted the rhythm section of New York psych-rockers Vanilla Fudge, and Beck was assembling his first solo group following an angry departure from the Yardbirds.
But on that occasion, Beck wound up choosing to build his Jeff Beck Group with fellow Brits instead, recruiting Ronnie Wood on bass, Nicky Hopkins on piano, Micky Waller on drums and some bloke named Rod Stewart on vocals, while Bogert and Appice carried on a while longer with the Fudge.
It would take two years before the three musicians' planets aligned themselves once again, and by all accounts, the superstar trio was primed and ready for action in the fall of '69 – until Beck suffered a serious car accident that laid him out for the better part of a year.
Rather than sit around twiddling their thumbs, Bogert and Appice once again sought to find creative satisfaction elsewhere, forming Cactus with singer Rusty Day and guitarist Jim McCarty (formerly of Mitch Ryder's Detroit Wheels), and quickly churning out four studio albums within the next two years.
At last, once Cactus was laid to rest in late 1972, Bogert and Appice finally joined a now fully recovered Beck on the road in order to hone their musical chemistry, before heading into the studio to record what would become the brand new supergroup's eponymous LP, that December.
But while it was received by great fan anticipation and major press coverage a few months later, the LP ultimately climbed no higher than no. 28 in the U.K. charts and no. 12 in the U.S., where BBA scored only a modest hit single via a cover of Stevie Wonder's 'Superstition.'
Perhaps the slight disconnect resulted from the broad range of musical styles covered by the LP (everything from heavy blues, to funk, to vintage rock and borderline MOR moments), or the trio's reliance on externally-penned material, or even the simple fact that mainstream awareness of their names was no longer what it had been when the first flirted with collaborating, nearly six years prior.
Whatever the reasons, Jeff, Tim and Carmine still delivered more than enough instrumental virtuosity and sheer star power for musos and other serious devotees, who flocked to their concerts throughout 1973, and, what's more, generally testified to the incremental power they displayed on stage versus on record.
Alas, after touring extensively across the U.K., Europe, America and the Far East (where recordings were captured for the 'Live (In Japan)' LP – rush-released that October), BBA disintegrated abruptly in January of 1974, having barely begun working on sessions for its proposed sophomore album, and that was the end of that supergroup.
As briefly (especially considering the lengthy lead-up and numerous false-starts) and inconsistently as they shined, however, Beck, Bogert & Appice's limited output clearly left an indelible mark on rock history, or else we wouldn't still be celebrating the anniversary of the group's sole release, 40 years later.
Hear 'Beck, Bogert & Appice'
Source:
40 Years Ago: 'Beck, Bogert & Appice' Album Released