Fleetwood Mac Announces 2014 Reunion Tour With Christine McVie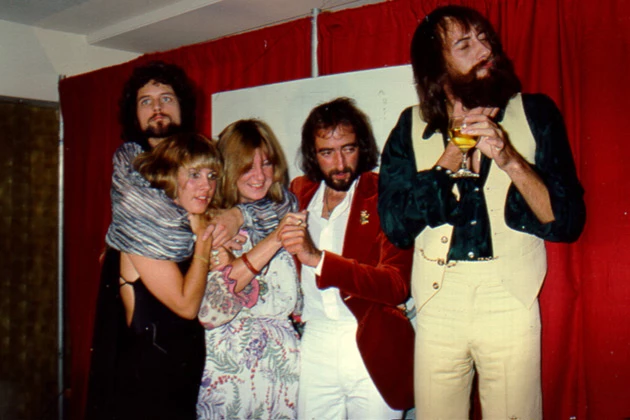 Christine McVie's long-awaited return to Fleetwood Mac became tangibly real with the announcement of a new world tour to kick off in September in Minneapolis. Thirty-four concerts in 33 North American cities will follow, marking the band's first full dates with McVie since 1998.
Tickets will go on sale beginning April 7 via Live Nation. A list of venues and dates is below. Additional details are available through the band's website.
The upcoming set list for the tour, dubbed 'On With the Show,' is still being worked out. But McVie — a member of the group for some three decades — voiced a number of Fleetwood Mac's most recognizable hits, including 'Little Lies,' 'You Make Loving Fun,' 'Songbird,' 'Everywhere' and – with Lindsey Buckingham – perhaps their signature song, 'Don't Stop.' McVie actually joined the group to work on new songs earlier this month, though she tells Rolling Stone that nothing is slated for release until after this tour.
The impetus for this unlikely reunion seemed to be the group's one-off performance of 'Don't Stop' last year, a moment that convinced McVie her early retirement had been a bad idea: 'I had some deluded idea that I wanted to live the 'country lady' life," McVie says. "But I felt isolated in the country. I grew quite ill and depressed."
McVie's former husband John McVie, bass-playing co-founder of the group, is still undergoing chemotherapy treatments after a cancer diagnosis last year — but Christine McVie reports that he's "definitely been on the mend." Fleetwood Mac is rounded out by Stevie Nicks and Mick Fleetwood. (Imagine a group where those two can ever be mentioned as afterthoughts!)
"Being back is really a time warp," McVie enthused. "The tour is going to be great fun. I feel like a pig in poo right now."
Fleetwood Mac 2014 'On With the Show' Tour Dates:
9/30 — Minneapolis, MN
10/2 — Chicago, IL
10/6 — New York, NY
10/10 — Boston, MA
10/11 — Newark, NJ
10/14 — Pittsburgh, PA
10/15 — Philadelphia, PA
10/18 — Toronto, ON
10/19 — Columbus, OH
10/21 — Indianapolis, IN
10/22 — Auburn Hills, MI
10/26 — Ottawa, ON
10/31 — Washington, DC
11/1 — Hartford, CT
11/10 — Winnipeg, MB
11/12 — Saskatoon, SK
11/14 — Calgary, AB
11/15 — Edmonton, AB
11/18 — Vancouver, BC
11/20 — Tacoma, WA
11/22 — Portland, OR
11/24 — Sacramento, CA
11/25 — San Jose, CA
11/28 — Inglewood, CA
11/29 — Inglewood, CA
12/2 — San Diego, CA
12/3 — Oakland, CA
12/10 — Phoenix, AZ
12/12 — Denver, CO
12/14 — Dallas, TX
12/15 — Houston, TX
12/17 — Atlanta, GA
12/19 — Ft. Lauderdale, FL
12/20 — Tampa, FL
Source:
Fleetwood Mac Announces 2014 Reunion Tour With Christine McVie