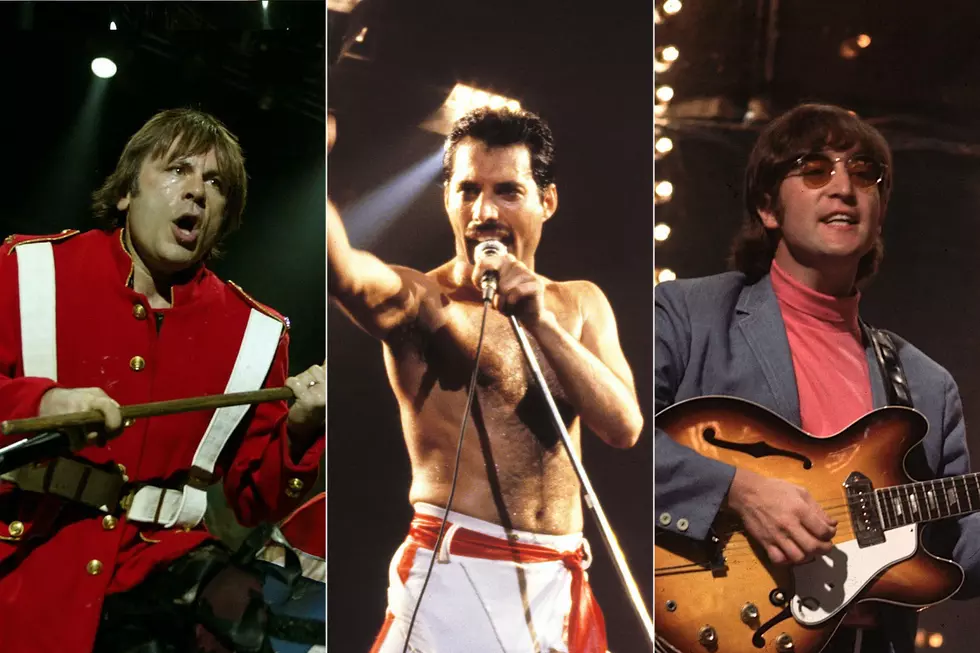 10 Best Rock + Metal Songs That Don't Have a Chorus
Karl Walter / Steve Jennings / Keystone, Getty Images
Years ago, it was virtually inconceivable for mainstream music to lack a chorus since most listeners anticipated singing along with hooky central motifs in-between verses, bridges, pre-choruses and other sections.
Of course, times change and so do the conventions of songwriting, especially when it comes to subgenres such as art rock, progressive metal and the like. Over the past few decades, countless artists have subverted expectations by structuring their songs differently, resulting in experimental takes on how those components intersect.
Or, as the 10 awesome tunes below demonstrate, sometimes artists forgo the chorus entirely. That's not to say that they don't have catchy refrains or other recurring passages, but technically, these tracks circumvent the norm in simple or sophisticated ways.
Iron Maiden, "Rime of the Ancient Mariner"

Taken from 1984's Powerslave, this lengthy multipart adaptation of Samuel Taylor Coleridge's epic poem is among Iron Maiden's most ambitious and literary pieces. Focused on "a sailor who causes a divine curse by killing an albatross" – as Bruce Dickinson once explained – it's ripe with compelling references to the saga amidst its adventurous shakeups. Because it combines several segments, though, there is no principal theme that acts as the focal point. Yes, portions such as "Sailing on and on and north across the sea" might seem to fit, but considering all of the inventive detours halfway in, it doesn't quite qualify.

Queen, "Bohemian Rhapsody"

Whether you're sick of it or you adore it, it's practically impossible to refute that this is Queen's ultimate statement. Ostensibly written about someone confessing to murder, it's later been analyzed as Freddie Mercury's "coming out song." In any case, it's chameleonic trajectory traverses a few styles, including singer/songwriter piano ballad, magnificent a cappella and operatic hard rock. Each chapter is highly individualized and brief, so there's not enough room in any one movement to implement a chorus even if Queen wanted to. There are certainly repeated phrases, however, and "any way the wind blows" is effectively the key expression.

The Beatles, "A Day in the Life"

Although they routinely collaborated on material (and been credited as Lennon–McCartney), John Lennon and Paul McCartney's output rarely felt like a hodgepodge of ideas. Sgt. Pepper closer "A Day in the Life" is an exception, as it's groundbreaking atypicality is rooted in the fact that Lennon wrote the characteristically gloomy verses while McCartney wrote the characteristically gregarious bridge. Thus, it's basically two half-songs ingeniously fused together by avant-garde orchestration, sound effects and Lennon's crooning. Neither person's contribution gets time to develop completely, yet its exploration of youthful exuberance, bleak news stories and burgeoning drug culture is utterly masterful anyway.

Jimi Hendrix, "All Along the Watchtower"

Moving onto something less complicated, Jimi Hendrix's blazingly psychedelic take on Bob Dylan's "All Along the Watchtower" – released less than a year after Dylan's John Wesley Harding – is indisputably one of the greatest covers of all time. It's commonly seen as the definitive version, too, so much so that Dylan began emulating Hendrix's rendition in concert around 1974. Like a lot of Dylan's work, its meaning is open to interpretation, and it eschews the popular verse/chorus back-and-forth template for freer poetic approaches (in this case, couplets). Really, it's just three extended verses separated by a guitar solo, and it's perfect.

Led Zeppelin, "Achilles Last Stand"

This is where Led Zeppelin dove fully into the prog rock explosiveness of contemporaries such as Yes, Rush and Mahavishnu Orchestra. Exuding their growing interest in Eastern aesthetics, it blends multiple inspirations and topics into its narrative, ranging from the titular Greek hero to Robert Plant's 1975 automobile accident (and subsequent broken ankle). While its numerous time and key signature changes offer a lot of variety as they circle Jimmy Page's thrilling guitarwork, they never surround a chorus. Rather, Plant simply sings a series of prolonged verses comprised of compelling rhymes. Obviously, his non-lexical vocables at the end don't count, either.

Radiohead, "Paranoid Android"

Radiohead's first single, 1992's "Creep," may've been relatively traditional, but the English quintet quickly stepped outside of the usual compositional boundaries. Case in point: "Paranoid Android," a stunning four-part art rock odyssey concerning consumerism and political corruption whose unpredictability was motivated by the Beatles' "Happiness is a Warm Gun." From its introductory acoustic dreaminess and subsequent dissonant freakout, to its soothing catharsis and final reprisal, it oozes hypnotic melodies and arrangements. However, the closest it comes to a throughline – "What's that? / (I may be paranoid, but no android)" – is more of a refrain since it's merely two concurrent phrases.

Metallica, "Fade to Black"

Despite not being nearly as complex as most of Metallica's future material, "Fade to Black" remains a classic testament to the potential for modestly moving songwriting. Sure, its lovely acoustic guitarwork, pulsating rhythms and crushing riffs are captivating, yet the key to its powerful illustration of suicidal thoughts is James Hetfield's earnestly sung sentiments. They're divided into two verses ("Life, it seems, will fade away" and "Things not what they used to be") and a bridge ("No one but me can save myself, but it's too late"). Therefore, he never interjects with a fetching chorus that counteracts his prevailing hopelessness.

Black Sabbath, "Paranoid"

The title track to Black Sabbath's 1970 sophomore LP is both an immensely significant and immensely basic heavy metal track. As Geezer Butler revealed to Guitar World in 2004, it "was written as an afterthought" because they "needed a three-minute filler for the album." (Also, they argued about whether it ripped off Led Zeppelin.) Of course, the only time Ozzy steps away from his panicked stanzas is when he shouts, "Can you help me occupy my brain? Oh yeah!" during the bridge. Given its influence and popularity over the past 52 years, it's hard to picture "Paranoid" any other way.

Between the Buried and Me, "Telos"

Admittedly, BTBAM have better self-contained tracks, but when it comes to ones without a chorus, this excerpt from the Parallax II: Future Sequence suite is tough to beat. Described by guitarist Paul Waggoner as "the meat" of the saga, "Telos" is a tremendous whirlwind of intricate cosmic fury relating to the internal and external dialogues of its two main characters (aka "Prospects"). While frontman Tommy Rogers Jr. oscillates between various sections across the almost 10-minute duration, the whole thing is too sporadically structured to fit into any kind of "regular" formation. That said, it's still packed with typically catchy moments.

Opeth, "Ghost of Perdition"

"Ghost of Perdition" is the most representative Opeth tune because it exquisitely unites the demonic tendencies of their earlier periods with the progressive/jazz rock inclinations of their newer collections. Lucky for us, it's also devoid of a central hook, instead portraying its tale of Satanism, murder and similarly dark subject matter through a series of verses, refrains, bridges and instrumental segues. Featuring some of mastermind Mikael Åkerfeldt's greatest death and clean vocals, not to mention ceaselessly imaginative arrangements, its excellence is only possible because it's so appealingly unconventional. Then again, Opeth have always bucked trends to chart a unique path.