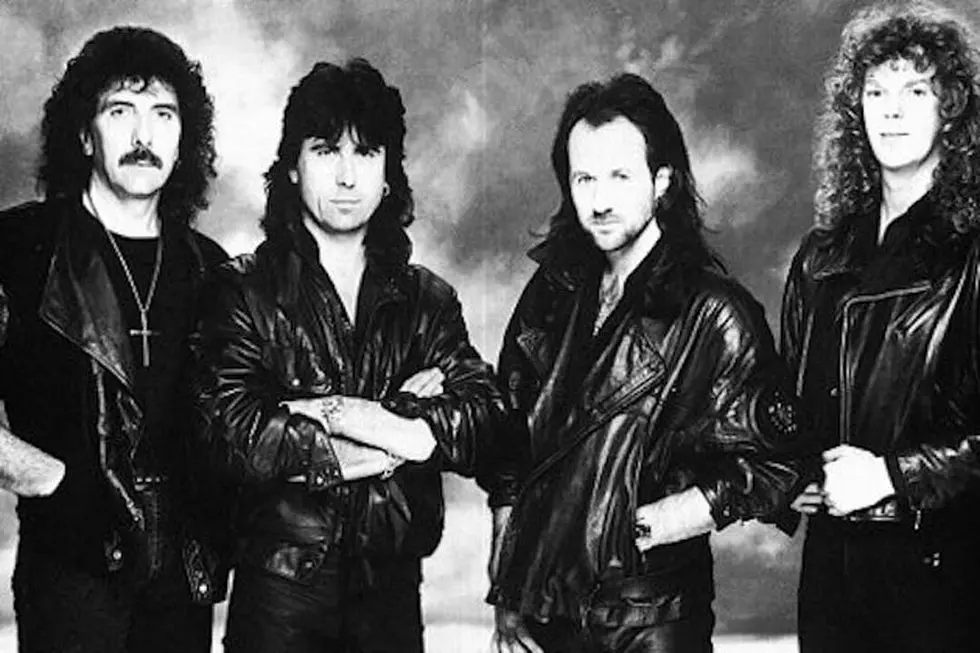 How Black Sabbath's 'Headless Cross' Began a Downward Spiral
I.R.S.
The release of Black Sabbath's Headless Cross should have been a cause for celebration, since it coincided with their 20th anniversary.
But guitarist Tony Iommi was all that remained from the original foursome by the time Sabbath's 14th studio album arrived on April 24, 1989. Their career was now moving into a slow downward turn amid numerous ill-fated personal and business decisions.
Considering all of that, the only suitable form of "celebration" might have been a funeral. Then again, if there's any band capable of making a wake work to their advantage, it is Black Sabbath.
Despite a ridiculous amount of musician turnover, Iommi had shown some serious songwriting momentum on the band's prior offering, The Eternal Idol.  Meanwhile, the relatively unknown but very talented Tony Martin was back for his second album as lead vocalist, and the legendary Cozy Powell (Jeff Beck Group, Rainbow, Whitesnake, etc.) was also on hand to provide his percussive thunder.
When it was all said and done, Headless Cross would make good on the recent promise of The Eternal Idol by delivering quite possibly the most impressive and consistent set of songs found on any Sabbath LP not fronted by Ozzy Osbourne or Ronnie James Dio.
Listen to Black Sabbath's 'When Death Calls'
The songs on Headless Cross ranged from widescreen, malevolent doom anthems like the title track, "Kill in the Spirit World" and the positively awesome "When Death Calls" (featuring a guitar solo by Queen's Brian May), to comparatively streamlined modern-metal juggernauts like "Devil & Daughter," "Call of the Wild" and "Black Moon." 
It all benefited from excellent keyboard shadings courtesy of longtime Sabbath sideman Geoff Nicholls and inventive bass lines from jazz-trained session ace Laurence Cottle – though he was later replaced by Whitesnake alum Neil Murray for touring purposes. Capping it all off was a rare detour into acoustic guitars by Sabbath lynchpin Iommi, who blended them with his patented cyclopean power chords for the exquisite album closer "Nightwing."
Headless Cross went on to earn Black Sabbath some of their best critical reviews in years. Unfortunately, however, subpar marketing efforts and widespread distribution issues seriously hampered the album's prospects in America and other key territories. As a result, a project that under more favorable circumstances might have constituted something of a comeback, instead became a well-kept secret.
Black Sabbath's return to total respectability would have to wait.
Top 10 Reunion Tours
There are three certainties in the world of rock: Death, taxes and reunion tours.
Was Black Sabbath's 'Never Say Die!' Doomed to Fail?