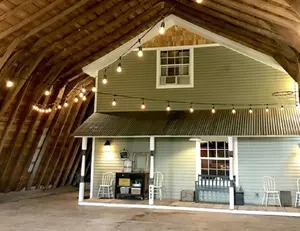 This Caseville, Michigan Vrbo Rental Is Actually A House Within A Barn
Brian Keim via Vrbo
As the world begins to open up, people are starting to get out and travel more. If you are like me, that travel itch can sometimes be temporarily scratched by poking around on short-term rental sites like Airbnb or Vrbo and come across some real unique spots.
"Grandpa George's Mid-Century Barn" - Winsor Township, MI
When you're perusing places on these sorts of short-term rental sites, you have the options to choose a "unique stay" or options outside of just your typical apartment or cottage. You can choose treehouses, yurts, and even barns.
Barns is where we looked when we were able to come across one of the most unique places we have ever seen...it is literally a legitimate home INSIDE of a barn.
No, we don't mean a barn converted into a home...we mean like an actual house, with siding and all, INSIDE an old dairy barn.
Caseville-Area Vrbo Rental: A House Within A Barn
Located in Winsor Township, Michigan this barn actually has a house (complete with a porch) inside of it for a unique renting experience!
Details About The Property
If you love what you see and are just itching to get to this Vrbo, it costs an average of $256 per night.
For that $256, you get enough room for eight people to sleep comfortably and an incredibly unique experience that seems extremely personal to the host, Brian Keim and family.
The hosts also have equipped the place with its own entertainment like records, a vintage pinball machine, a pool table, and outdoor recreation equipment like kayaks (available for a small rental fee).
According to the Vrbo listing, with it located in Huron County, staying at this barn home puts you "just moments away from some of the best beaches, boating, fishing, and farms in the entire state of Michigan!"
You are also a stone's throw away from Caseville, known for its "Cheeseburger in Caseville" festival!
Get Out Of Your Comfort Zone
This is what is so fun about Michigan. There is always so much to do, especially with the lakes, forests and everything else. You are bound to find an awesome, unique place like this here LITERAL farmhouse!
If you like combining barns AND homes like this Vrbo, check out this barn home in Jackson:
SEE MORE: Home For Sale: Barn Turned Into Amazing Home In Jackson, Michigan
Check out these photos of huge barn converted into a 3 bedroom, 3 bathroom house.
UP NEXT: Take a Look at the Most Expensive Airbnb in Michigan
LOOK: Famous Historic Homes in Every State