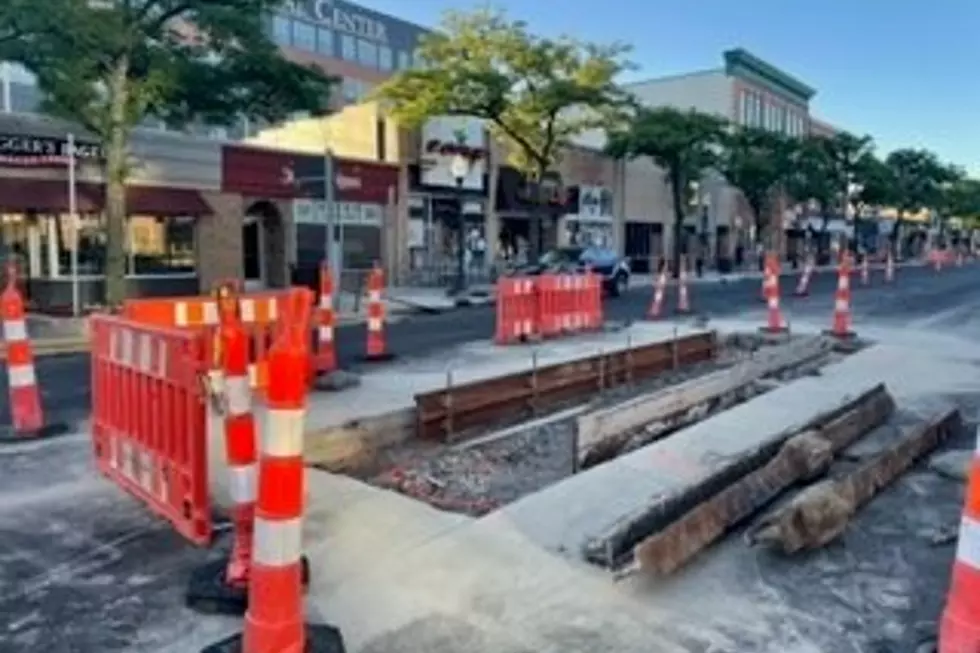 Cool Discovery: Crew Unearths Streetcar Tracks That Ran From Royal Oak to Flint
Royal Oak, MI - City Hall via Facebook
A construction crew in Royal Oak unearthed a piece of Michigan history yesterday (6/28), revealing a section of streetcar tracks that once connected the city to Flint, Detroit, Romeo, and Imlay City.
SEE ALSO:  Detroit to Denver Paswenger AirDrops Inappropriate Photo to Everyone on the Plane
Discovering the 'Interurban' Railway
There's not a lot of information available about 'Interurban' railways that were popular in the early 1900s. The Wikipedia page says that the electric railway system was used by streetcar-like trains that were self-propelled, and were used primarily to transport passengers between cities and towns. The mode of transportation was popular in North America primarily between 1900 and 1925.
There is limited documentation on the topic, but historians say there were several such railways in Michigan in the early 1900s. Tracks primarily connected Detroit to cities like Monroe, Mt. Clemens, Jackson, and Chicago, but there were also railways in Saginaw, Bay City, Grand Rapids, Lansing, and even the Upper Peninsula.
Royal Oak Discovery
According to the Royal Oak City Hall Facebook page, the Interurban tracks were discovered during road construction at the intersection of Second and Main Streets.
The tracks initially ran between Royal Oak and the city of Detroit but later branched out to Flint, Imlay City, and Romeo.
The post says that in 2015, the Royal Oak Historical Society rescued streetcar artifacts from the Washington Street area.
Facebook Comments Reflect Nostalgia
Many who chimed in on the Facebook thread seemed to long for a simpler time when streetcars were popular and wondered why that mode of transportation got left behind.
Cheryl:  Kind of sad that the infrastructure was not enhanced, rather than abandoned.
Jackie:  So there was mass transit in the "olden days" and now we live in "1 person per vehicle in gridlocked rush hour traffic" days. How is this progress?
Kristin summed it up nicely:  Let's bring back streetcars!
13 Notable People That You Did Not Know Were From Detroit, MI
Detroit, Michigan is the birthplace of thousands of notable people and many people know. Check out this list of 13 people that you may not know were born in The D.
Did You Know Michigan Has Nine Border Crossings Into Canada?
Michigan has more than just the Ambassador Bridge to get you to Canada. Check out all nine international border crossings that connect Michigan and Canada.
Michigan's Second-Most Expensive House Has 118 Rooms
Michigan's second-most expensive home on the market right now features a staggering 118 rooms, an indoor pool, and it's just dripping with opulence.