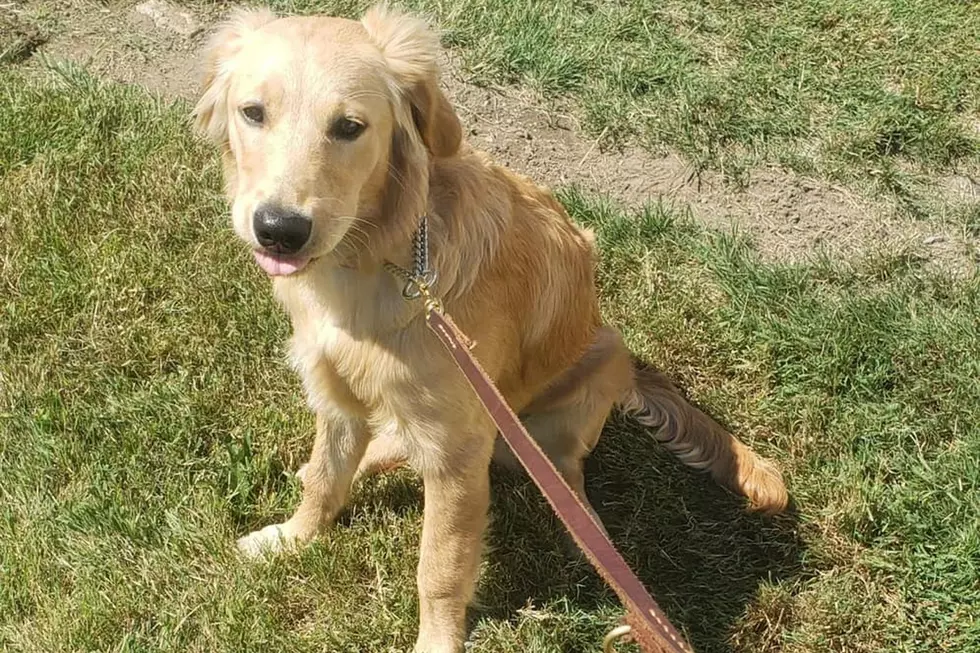 Dog that Survived Michigan Weekend Plane Crash Found Safe & Sound
Ray Township Fire & Rescue via Facebook
A dog that went missing after miraculously surviving a plane crash over the weekend in Michigan has been found and is being reported safe.
SEE ALSO:  Lansing Cops Break Windows to Save Dog Left in Hot Car
Plane Crash Sunday in Macomb County
Three human passengers and a six-month-old golden retriever named Charlie survived the crash.
Authorities were called to the Ray Community Airport in Macomb County's Ray Township on Sunday afternoon after a single-engine plane lost power shortly after taking off from the airport. The pilot says he lost power to the plane's engine shortly after lifting the aircraft's landing gear. The 44-year-old pilot reports that he was approximately 100 feet into the air when he chose to make a 'controlled crash' into an area just off the airport's runway.
Two other passengers and the dog were onboard the aircraft. The pilot and his 37-year-old wife are from Chicago and the couple's 17-year-old niece is from Georgia. All three were in Michigan visiting family.
No Fatalities
Miraculously, all three passengers and the dog survived the crash. According to the Macomb County Sheriff's Office, all three passengers exited the plane on their own and were taken to a nearby hospital for treatments of broken bones, lacerations, and burns.
As of this writing, the two adult passengers have been released from the hospital, the 17-year-old girl is in stable condition.
Dog Ran Away From the Scene
After the plane touched down on Sunday, the dog ran away from the scene of the crash and was reported missing. However, on Tuesday (7/26) the website DogTime is reporting that the six-month-old golden retriever named Charlie has been found and has since been reunited with his owners.
$7.9M Home in West Bloomfield Resembles High End Luxury Resort
It's not the Ritz Carlton, but it's close. This $7.9 million dollar home in West Bloomfield, Michigan is one of the largest homes for sale in Michigan and resembles an exclusive high-end resort from top to bottom. The 16,463 square feet mansion includes everything you would find at a high-end resort. Plenty of room, with 8 bedrooms and 15, yes 15 bathrooms. Inside you'll find an indoor pool, golf simulator room, theatre room, yoga and massage room, indoor gymnasium featuring a full-size basketball court, and volleyball court that also turns into a banquet room with retractable light fixtures. Yes really. Take a look at the home that truly has it all.
7 Michigan Nudist Resorts
Take a Look Inside Henry Ford's Exquisite Detroit Home
This beautiful home built in 1908 is dripping with history. It was the home of Henry Ford, the founder of the Ford motor company from 1908 to 1915.
The home's history has been beautifully preserved over the last 100 years and it truly is a step back in time. At the time of this writing, the
listing
indicates that there is a pending sale in progress, so this unique piece of Detroit history will soon have a new owner.