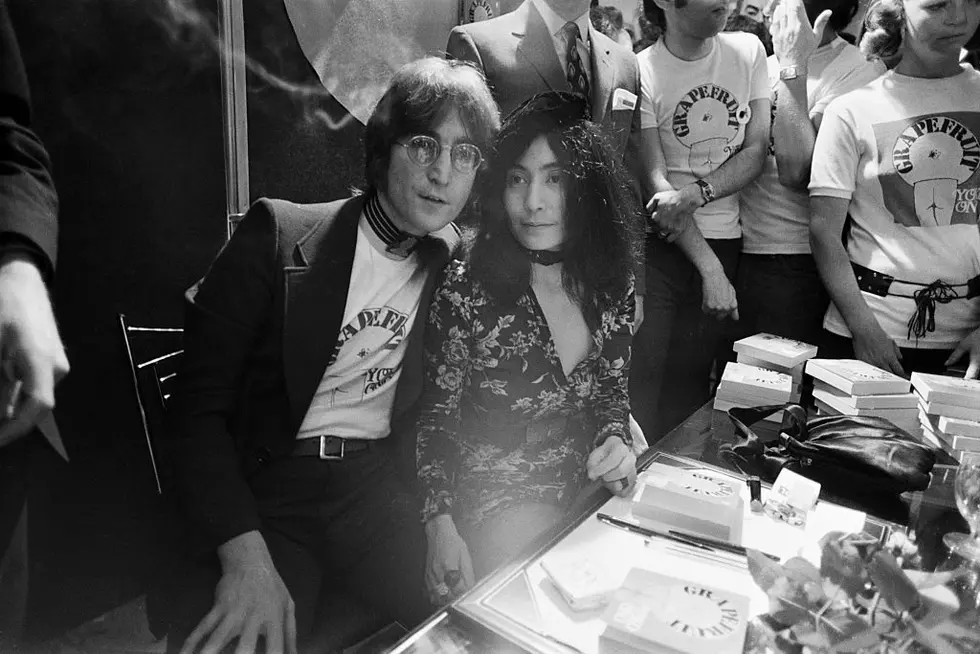 Double Fantasy – John & Yoko Exhibition
Jack Kay/Daily Express/Getty Images
Starting on May 18th and running through April 2019 the Museum of Liverpool will be presenting the world's first ever exhibition telling the story of John Lennon and Yoko Ono. The free show puts on display their artistic creativity and tells the story of the deep love they had for each other.
The items in the exhibition are from Yoko's private collection.
Here's a list from the Museum of Liverpool of some of the art.
Hand-written lyrics by John Lennon, including In My Life, Give Peace a Chance, Happy Xmas (War is Over) and Woman .
Grapefruit - Yoko's artist book, which she gave to John as a gift in 1966. Published in 1964, the book represents a seminal piece of conceptual art and was a direct influence on the lyrics and ideas behind Imagine.
Original artwork by both, including Yoko's Ceiling Painting/Yes Painting , Painting to Hammer A Nail and Apple, as well as The Daily Howl , a hand-made book by John from his childhood and numerous examples of his distinctive line drawings. The exhibition also features conceptual work the couple produced together, such as War is Over, PlasticOno Band, and elements of their first collaboration Acorn Peace
Many personal items, such as John's wire-rimmed glasses, Yoko's large Porsche sunglasses, iconic items of clothing, such as John's New York City t-shirt, and items from their wedding outfits.
An extremely rare Sardonyx guitar used by John on the album, Double Fantasy, and the acoustic Gibson guitar, illustrated on by John, from their 1969 Bed-Ins.
John's hard-won Green Card.
Items from the couple's famous 1969 Bed-Ins in Amsterdam and Montreal.
A rolling programme of the films that John and Yoko created, and music videos made under Yoko's supervision. A music room, overlooking the Mersey with the couple's albums played for visitors will feature album cover art.
A recreation of the Imagine mosaic circle in Strawberry Fields, Central Park, New York. An intimate and contemplative space, it will also reflect on the global impact of John's death.
Source: liverpoolmuseums.org.uk