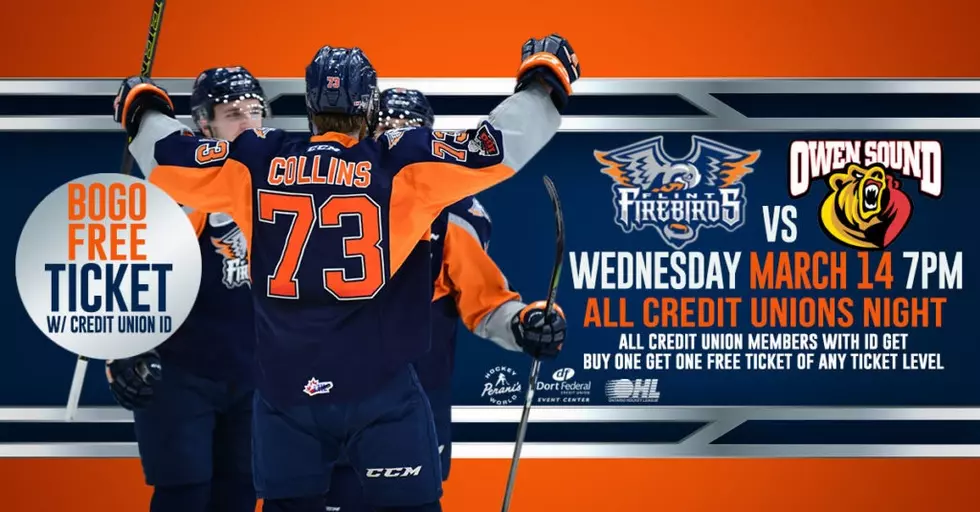 Firebirds Host "All Credit Unions Night"
flintfirebirds.com
$5 discount for all local Credit Union members on silver level reserved seats.Two home games remain this season as the Firebirds return to the Dort Federal Event Center and host the Owen Sound Attack tonight (3/14) at 7 p.m. Wednesday marks the Firebirds' inaugural "All Credit Unions Night" sponsored by ELGA Credit Union, Financial Plus Credit Union, Flint Area School Employees Credit Union, SageLink Credit Union, Security Credit Union and Dort Federal Credit Union.
All fans with a Credit Union debit or credit card (or proof of membership) will receive $5 off a silver level ticket at the Dort Federal Event Center Box Office. Wednesday is also a 'double redemption' game for all season ticket holders and sponsors: If you've missed any games this season, you can redeem your unused season ticket(s) to get two for one tickets on Wednesday or in advance at the box office.
Wednesday marks the final "College Night" of the season, featuring $2 beers and $2 hot dogs for all fans in attendance. Additionally, all college students with valid identification will also receive $2 off admission.
Puck drop is set for 7 p.m. at the Dort Federal Event Center in Flint.
Listen to the Firebirds on US1031.