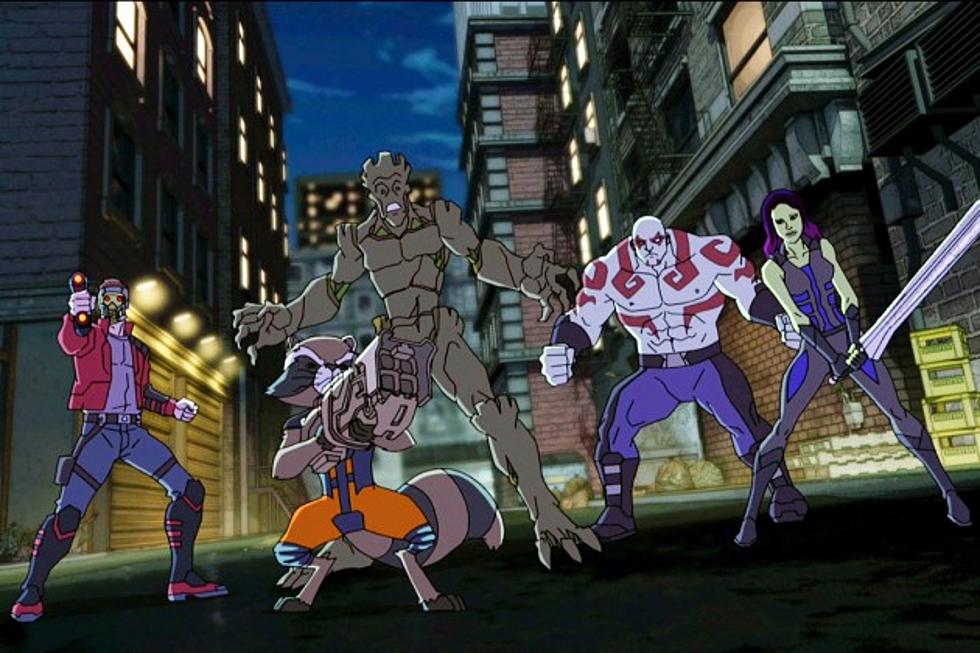 'Guardians of the Galaxy' Animated Series Debut in 'Avengers Assemble' Clip
Marvel / Disney XD
As reported by USA Today, our first look at the new Guardians appearing on Avengers Assemble won't necessarily keep continuity or animation styles with the 2016 series, though the clip does feature the voice cast of Will Friedle as Star-Lord, David Sobolov as Drax, Vanessa Taylor as Gamora, Kevin Michael Richardson as Groot and Trevor Devall as Rocket Raccoon. Not present in the clip, but also cast for the animated Guardians of the Galaxy is James Arnold Taylor as both Yondu and Cosmo.
While the Avengers Assemble clip from Sunday's installment features the Guardians battling Thor and Black Widow for possession of the Infinity Stones, Marvel VP of animation development Cort Lane previews of the actual Guardians:
The personalities and voices are right on target for what we are doing in the new series. It's a cool taste for viewers without spoiling what's coming in the Guardians show.
Adding that the humor and heart of the 2014 breakout hit will pervade the new series as well, Cort goes on:
The past misdeeds of each of the Guardians comes back to complicate their lives. That can be funny or very dangerous, but helps the audience understand how far they have come. They are tempted to give in to not-so-heroic instincts, but they end up doing the right thing — even when they really, really don't want to. And Marvel's cosmic universe is so vast and weird, so we get to go on an epic quest through it with the Guardians.
We've included the Avengers Assemble footage, as well as the original Guardians of the Galaxy animated test footage from New York Comic-Con below, so take a look at the next take on our favorite galactic misfits!