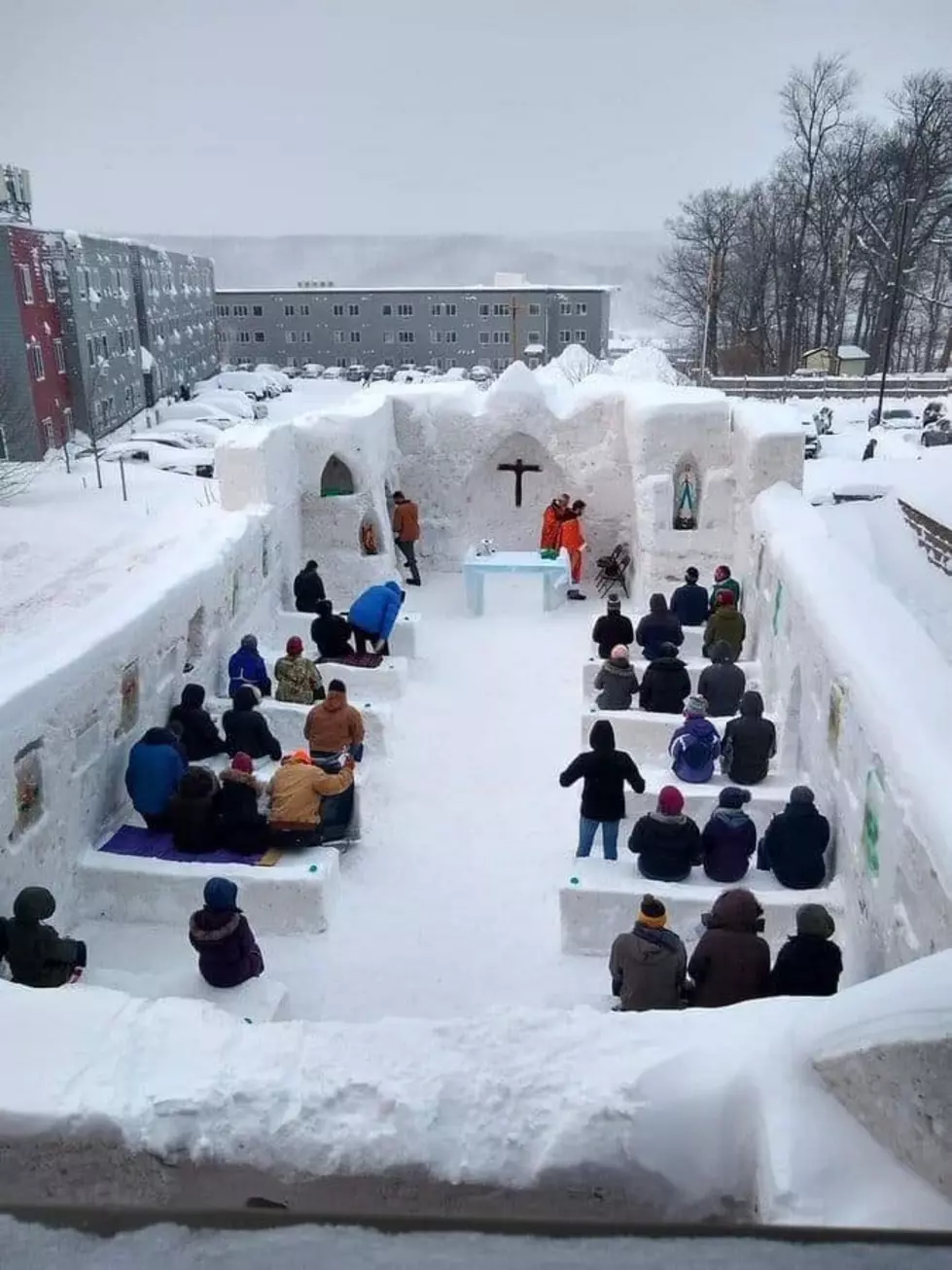 Watch Students at Michigan Tech Build An Entire Chapel Made of Snow
Catholic Study Fellowship via Facebook
It doesn't get any more Pure Michigan than this!
An annual tradition now in its eighth year, the ice chapel of Our Lady of the Snow is built each winter by the students of Michigan Technological University (Michigan Tech).
In honor of Michigan Tech's annual Winter Carnival, which is famous for its over-the-top snow sculptures, the Catholic students who attend St. Albert the Great University Parish on campus first started their ice chapel tradition in 2016.
They certainly get enough snow in the U.P. so why not build a chapel out of it?
Rev. Ben Hasse tells America Magazine, 
It just seemed like this really cool opportunity to do something that was catching people's imagination, that was going to be positive and faith filled
How Long Does It Take to Build?
Building an ice chapel is a weeks-long process, but having built the chapel each year since 2016, the student parish has this construction down to a science!
Students use pieces of plywood as the form to create snow bricks. Students fill the 8' x 4' plywood boxes with snow, stomp the snow to pack it tight, then remove the wood to reveal the snow bricks. The bricks are then used to create the walls and pews of the chapel, which is built on campus in the parking lot of St. Albert's.
Says America Magazine, "Construction of the ice chapel is student-led and provides an opportunity for fellowship and even faith sharing."
Ice Mass 2023
The St. Albert's website allows you to track the progress of the chapel's construction, which is currently taking shape!  If you can't make it to this year's Winter Carnival in Houghton, mass will be live-streamed from the ice chapel here.
Michigan Tech's Winter Carnival takes place February 8-11, 2023.
12 Cozy Cabins for a Perfect Winter Getaway in Michigan
Winter doesn't have to be all bad thanks to these cozy cabin stays throughout Michigan.
World of Winter 2022
I had so much fun with my wife Lindsey checking out some of the amazing displays for World of Winter 2022 which has tons of great events in Grand Rapids now through Sunday, March 6th. Here are some of my favorite pictures I took.