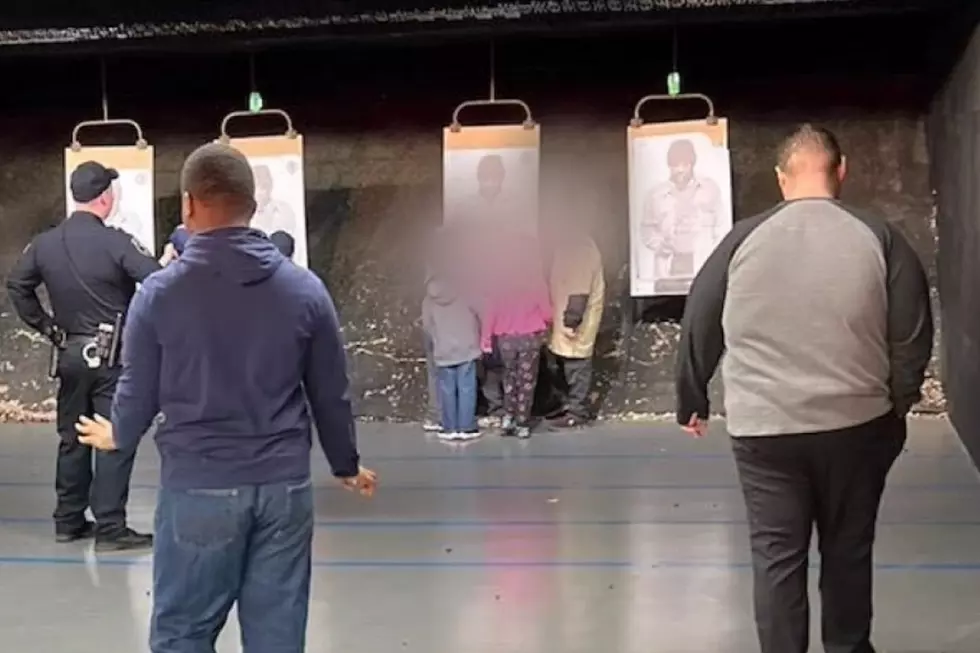 Is This Michigan Police Agency Only Using Images of Black Men as Targets?
WJBK-TV
A police agency in Southeast Michigan is being called out for allegedly only using images of Black males as targets for officers conducting weapons training.
SEE ALSO:  Warren Police Bust Seven People in Huge Counterfeit Good Operation
The allegation was made after a Cub Scouts troop visited the Farmington Hills Police Department for a field trip.
Images of Black Men as Practice Targets
An attorney representing parents who accompanied the scouts on the field trip says parents were stunned by what they saw. Dionne Webster-Cox says the parents she represents were outraged by what they saw but chose to speak through her in order to insulate themselves and their families from possible backlash.
"They took the little kids, this Cub Scout troop down to the basement where they do the target practice,"  Webster-Cox tells Detroit's WJBK-TV. "Farmington Hills Police Department, you need to do better - why is there no diversity?"
A Possible Pattern of Bias
The attorney goes on to say that she is also outraged by what she saw. She did some digging and discovered that a Black police officer filed a complaint against the force in 2021 claiming racial bias.
The attorney also says that the ACLU discovered that the Farmington Hills police department ordered targets in 2021 that were more representative of the population but claims that only the targets depicting Black males are being used.
The parents and the attorney believe that the department may have left an impression with the scouts that is not favorable.
Department Refutes the Allegations
In a follow-up story, Farmington Hills Police Chief Jeff King says the department has conducted a review and found that the department uses 11 white targets and two Black targets and that this practice is "consistent with the Michigan Commission on Law Enforcement Standards (MCOLES) and the City's demographics."
Cox says there is no plan to file a lawsuit against the department.
$5M Oakland Township Home Comes with Private Helipad & Hanger
For a cool $5M, this French Country Manor Estate can have your living like 007. It's the type of place you'd see James Bond sleuthing around. The best part is that you don't need to hop the pond to check it out, because it's right here in Rochester, Michigan.
The incredible grounds that cover 12 acres include manicured gardens, 21 flaming gas stone urns, and a built-in 25' x 55' gunite swimming pool. Need to make a quick escape? Choose horseback with your barn with 6 stalls, a custom 6-car garage, or take off from your private helipad complete with state of the art hangar for storage.
The home has 6 bedrooms, 9 bathrooms, a massive loft area, a lower-level gaming room, a gourmet kitchen, and an indoor lap pool as well.
Ready to live like an international spy? It can all be your!
This House Has a Pool That Looks Like a Human Organ (And We're Not Talking About Kidneys )
Because I have the maturity of a 15-year-old boy, I have to share these pictures of a house in Missouri that has a pool that's shaped like ... a male organ.
And before you ask, there's no way in hell that the phallic design was a happy accident. You'll know exactly what I mean once you see the pictures.
Did You Know Michigan Has Nine Border Crossings Into Canada?
Michigan has more than just the Ambassador Bridge to get you to Canada. Check out all nine international border crossings that connect Michigan and Canada.