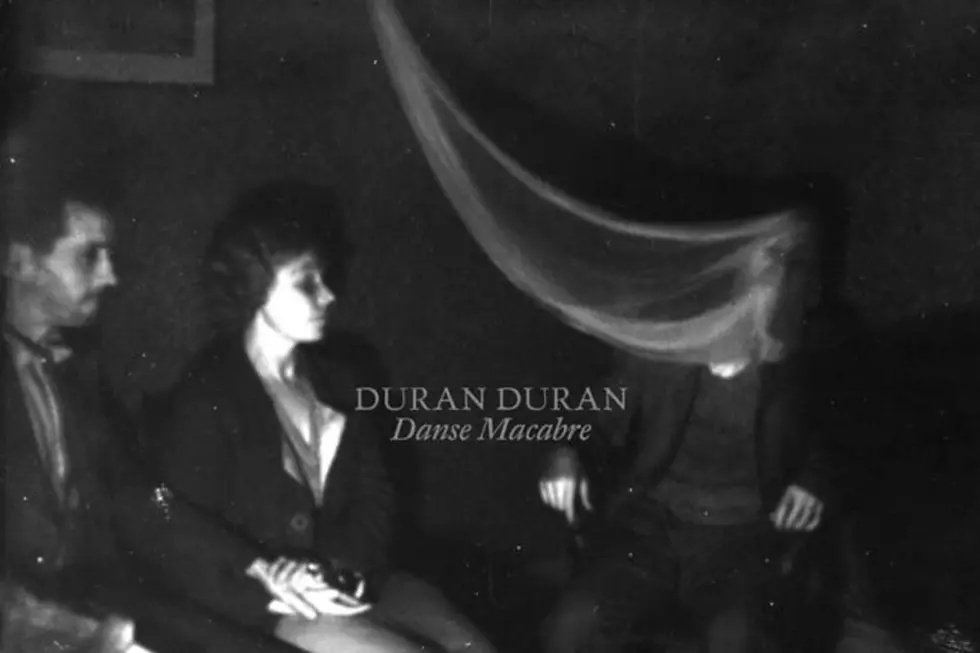 Duran Duran Announces New Album, 'Danse Macabre'
Tape Modern, BMG
Duran Duran will release a new album called Danse Macabre on Oct. 27.
"The idea was born out of a show we played in Las Vegas on Oct. 31, 2022," keyboardist Nick Rhodes explained in a press release.
"We had decided to seize the moment to create a unique, special event ... the temptation of using glorious gothic visuals set to a dark soundtrack of horror and humor was simply irresistible."
READ MORE: How Duran Duran Uses Challenging Rarities to Keep Shows Fresh
The 13-song LP is available to preorder now in a variety of formats. You can see the track listing — which includes an update of the rare B-side and fan favorite "Secret Oktober" — below. They're previewing the collection with the haunting title track, which you can hear below.
"I hope you take a journey with us through the darker side of our inspirations into where we're at in 2023," drummer Roger Taylor added. "Maybe you'll leave with a deeper understanding of how Duran Duran got to this moment in time."
'Danse Macabre' Guests
The new wave legends teased the release earlier this year, telling fans that it would "feature extended Duran Duran family and friends, old and new," including former guitarist Andy Taylor, who has been battling stage 4 prostate cancer.
Other guests include longtime Duran Duran associate and producer Nile Rodgers, Victoria De Angelis of Maneskin and Taylor's former replacement, Warren Cuccurullo. The guitarist joined the band in 1986 and took part in its next wave of popularity that came with the 1992 hit "Ordinary World." He stayed with the group until 2001.
Danse Macabre includes three new originals, covers of songs by Talking Heads, the Rolling Stones, the Specials and Billie Eilish, and new versions of deep cuts from their past.
Duran Duran, 'Danse Macabre' Track Listing
1. "Nightboat" (originally on Duran Duran)
2. "Black Moonlight" (new original song)
3. "Love Voodoo" (originally on The Wedding Album)
4. "Bury a Friend" (Billie Eilish)
5. "Supernature" (Cerrone)
6. "Danse Macabre" (new original song)
7. "Secret Oktober" (originally a B-side for "Union of the Snake")
8. "Ghost Town" (The Specials)
9. "Paint It Black" (The Rolling Stones)
10. "Super Lonely Freak" (combines Duran Duran's "Lonely in Your Nightmare" and "Super Freak" by Rick James)
11. "Spellbound" (Siouxsie and the Banshees)
12. "Psycho Killer" (Talking Heads)
13. "Confession in the Afterlife" (new original song)
Top 40 New Wave Albums
From the B-52's to XTC, Blondie to Talking Heads, a look at the genre's best LPs.