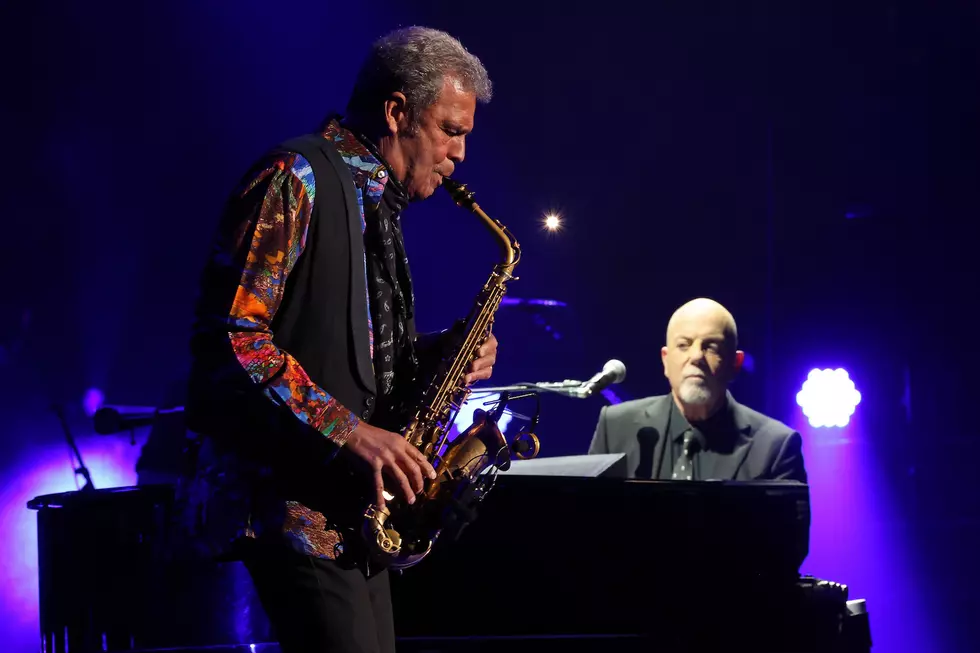 Billy Joel Saxophonist Mark Rivera on the Life of a Sideman
Taylor Hill, Getty Images
The term sideman, according to Mark Rivera, "has a little stink to it." But for the multi-instrumentalist — who's spent 40 years playing mostly saxophone for Billy Joel and has worked with Foreigner, Peter Gabriel, Daryl Hall and John Oates and Ringo Starr's All-Starr Band, among others — the smell is actually pretty sweet.
"It's the greatest thing because I get to be on the side of the greatest bands that ever existed," says Rivera, who recently published a memoir, Sideman: In Pursuit of the Next Gig, with a foreword by Starr. "Think about it: If I was in a band, a frontman or something, I wouldn't have played on 'Sledgehammer.' I wouldn't have been in Foreigner. I wouldn't have done any of that. I can't imagine having a single gig that would be more rewarding than being a sideman."
Yet Rivera is quick to point out — in his book and in conversation — that there's always a sense of uncertainty that comes between these gigs, though his standing commitments with Joel and Starr have largely kept his time filled and bills paid. "Everybody thinks, 'Oh, Mark's got to be wealthy beyond compare,'" he says. "They don't realize I'm an independent contractor — independent in general. I'm paying medical insurance, mortgage. There's that term in our business, passive income or publishing income — mailbox money. That doesn't come to my mailbox. I earn what I earn.
"But, you know, for people outside of our business, that's a universal thing," the Brooklyn native continues. "People are all in the same situation. So the story in [the book is] the more personal you become, the more global it gets, 'cause everybody suffers from the same insecurity, or just getting by. So [Sideman] is a blue-collar look at this glorious life, I guess."
Written with Mike Poncy, Sideman takes a tour through Rivera's life and career, from attending New York's High School of Performing Arts through his days slugging it out in clubs and studios. His band Tycoon signed to Clive Davis' Arista Records in the late '70s, which led to working with super-producer Robert John "Mutt" Lange, who in turn hooked Rivera up with Foreigner for their blockbuster 4 album and set the stage for all that followed.
There's no shortage of stories in Sideman's 258 pages, nor in a typically animated, freewheeling conversation with Rivera shortly after the first of Joel's stadium dates with Stevie Nicks.
On Meeting John Lennon
A Beatles fan like countless others, Rivera met John Lennon in the mid-'70s when the ex-Beatle was part of a group called BOMF (Band of Motherfuckers) and residing in New York City's Record Plant, where Rivera had janitorial duties.
"He was in Studio C and I was literally cleaning the garbage ... 'cause Roy Cicala [house engineer] let us have studio time and rehearsal time," Rivera says. "It's like going into Technicolor is all I can say. I guess Roy and Jimmy Iovine knew me well enough that [they thought], 'Well, I guess he can hang. He won't step on his tongue the whole time.' You worry you're gonna say too much and then you don't say anything, but saying less is better.
"But, yeah, it was crazy stepping into that room. It was like meeting the all-powerful Oz and finding out he wasn't the guy with the levers and all that. He's just a great guy, and he was everything you'd want him to be — and more."
Rivera and BOMF wound up backing Lennon for his final TV performance on April 18, 1975, playing "Imagine" during a tribute special for British entertainment mogul Sir Lew Grade, with whom Lennon had a fraught relationship.
Having toured frequently with Starr and played with Paul McCartney through both Starr and Joel, Rivera is one Beatle shy of a grand slam. "I never met George [Harrison], not even an introduction," he says. "But I'm batting .750 with the other guys. I'd be in the Hall of Fame twice with those numbers."
Watch John Lennon on 'A Salute to Sir Lew Grade'
On Recording and Touring With Foreigner
Rivera and Mutt Lange became friends when the latter produced Tycoon's eponymous debut album. Lange enlisted Rivera to work on Foreigner's 4, on which he contributed saxophone to "Break it Up" and "Urgent" (although Junior Walker played the iconic solo on the latter). Rivera subsequently joined Foreigner on the road in support of the album.
"It was a tremendous opportunity," recalls Rivera, who documents some of his road adventures in Sideman. "It was a real break that Mutt Lange provided the introduction. Rick Wills [former Foreigner bassist] took me under his wing; he's just great. I met my wife [Sandra] on that tour. Looking back, geez, it's 42 years ago. It's a lifetime ago."
The tour also showed Rivera what the role of the sideman entailed — and what it didn't provide. "The band was four guys and Bobby Mayo [fellow multi-instrumentalist] and I, who worked our asses off, and I don't think we were recognized, if I'm allowed to say that," Rivera admits. "If you look at photographs, it's usually Bobby and I in the shadows, and we were providing a great deal of the music for that. It's tough — I'm not gonna say I don't love them, 'cause I do. I loved playing with them, and that really got everything going for me as a touring musician."
Rivera would not be averse to guesting with Foreigner on some of their upcoming farewell tour dates, but he expresses disappointment that he's never been asked to do anything more with the band. "They've had these past-and-present [shows] and all that, and they should have had Bobby and I come up, that's all I can say. Bobby's gone now, so that opportunity is gone, which is sad."
On His Longtime Billy Joel Gig
Rivera's four-decade tenure in Joel's touring band means "everything" to him. "The most important thing is the gratitude I have for the position and the respect I have for him as a bandleader," he says. "He's always like, 'I just want to be in a band,' and [I say,] 'Yeah, but you happen to write some of the world's best songs' — as Tony Bennett calls him, the walking American Songbook. And Billy and I share a lot of joy for [Jimi] Hendrix, Cream. He loves Traffic, as I do, [and] the Rascals. We have a lot of commonality in our collection of music, so getting to play with somebody for 40 years who actually loves the same music I do, it's great."
Rivera is equally exuberant about Joel's ongoing stadium tour with Nicks, which launched on March 10 in Los Angeles. "Some people said, 'Stevie Nicks and Billy Joel? I don't get it.' But it was incredible. Her band was amazing; her songs are incredible. Billy came on and sang 'Stop Draggin' My Heart Around.' It's two icons — she's the California hippie, he's the quintessential New Yorker — and somehow the music met right in the middle. There are nine shows slated for this year, and I can't imagine that people won't want to keep coming out. It's a wonderful show."
Watch Billy Joel and Mark Rivera Play 'Urgent' With Lou Gramm and Mick Jones
On Touring With the All-Starr Band
Ringo Starr wasn't planning to add another saxophonist to his All-Starr Band after the first two — Clarence Clemons and Timmy Cappello — were called back to their gigs with Bruce Springsteen and Tina Turner, respectively, in the mid-'90s. But Springsteen's longtime tour director George Travis recommended Rivera, telling Starr, "You gotta check this guy out. He does more than play saxophone."
Rivera quickly discovered his sideman role gave him a perspective and level of objectivity that was different than the All-Starrs themselves. "All these guys in Ringo's band were frontmen. They weren't used to listening and critiquing their parts," says Rivera, who found himself diplomatically helping with song arrangements. "When I went to them, I was prepared. I had listened to all those [songs] for so long ... I was prepared when I was 16 to play in that band, if you think about it."
He was even ready to correct a Beatle, which is not an experience Rivera took lightly.
"There was one time Ringo was playing 'Don't Pass Me By' and his hands were in the wrong position. He's cursing and carrying on, and I literally grab his hands and move them. Steve Lukather and Gregg Bissonette look at me like, 'Boy, you've got balls.'
"Finally, [Starr] comes over at the end of the song and says, 'Mark Rivera, I'm so sorry,' and it was like vindication. Sometimes you just have to have the moxy to say, 'No, that ain't right.'"
Starr was also gracious when Rivera had to bow out of touring with the All-Starr Band in 2003 due to commitments with Joel. "There's a pregnant pause, and I'm waiting for, 'Have a happy life,' 'cause nobody tells Ringo they can't do it and is still in his good graces. No one," Rivera says. "And then he says, 'But you'll still be my musical director.' And it's like God smiled on me. ... I've been with him ever since, and all the people I've gotten to meet by playing and working with that band is just incredible."
Watch Mark Rivera and Steve Lukather With Ringo Starr's All-Starr Band
On Standing His Ground
One of Rivera's other "corrections" with the All-Starr Band came in 2001 when Greg Lake of King Crimson and Emerson, Lake & Palmer fame joined the band. "I had to convince him that 'The Court of the Crimson King' would be better than [ELP's] 'From the Beginning.' I said, 'Trust me.' 'Trust you?!' Boy, did I say the wrong thing!" he says with a laugh. "Greg was adamant — 'Why would they like that song? It's old!' And I said, 'You were the beginning of prog rock. People will love it.'"
Rivera eventually convinced Lake to play "The Court of the Crimson King" on the first night of the tour. "Sure enough, Ringo introduces him, and when they get to the 'ahh, ahh, ahh, ah-ah' part, people just stood up and sang like they were in a trance. And Greg looked over at me and I kinda shrugged my shoulders like, 'I told ya.'"
On His Favorite All-Starr Band Lineup
Rivera has love for all the All-Starr Bands, but he's particularly fond of the 1997-98 fourth edition, an all-British unit that comprised Peter Frampton, Jack Bruce, Gary Brooker of Procol Harum and Simon Kirke of Free and Bad Company.
"That was my absolute favorite band I've ever been in, because they were my heroes," Rivera says. "Cream was one of the greatest. I got to see them in '67 or '68, when they first came to the States at the Fillmore. I just loved playing all those songs — 'A Whiter Shade of Pale,' 'White Room,' 'Do You Feel Like We Do,' all of 'em. That's seminal stuff, man."
Watch Ringo Starr's All-Starr Band Play 'A Whiter Shade of Pale'
On Almost Touring With Mick Jagger and Jeff Beck
"When someone says, 'Who were your influences?' everyone expects me to say Charlie Parker or John Coltrane," Rivera notes. "I say, 'No, Jimi Hendrix and Jeff Beck.' I'm a rocker. I play saxophone like a rock 'n' roll guitarist."
So it was a thrill when Mick Jagger tapped Rivera for his solo band, which was also set to include Beck, circa 1986.
"I was blown away," says Rivera, who writes in Sideman about sitting between Jagger and Beck and sharing a joint during rehearsal. Unfortunately, Beck opted out before the tour began. "I got to do two rehearsals with him, and all of a sudden that goes away. If I could have back that moment, that would be an incredible band to be in — myself, Mick, Jeff Beck, Doug Wimbish on bass, my dear friend Phil Ashley [on keyboards], who's passed away as well. ... That could have been incredible."
Jagger did eventually revisit the solo tour idea and reached out to Rivera again, but he'd already signed on to tour with Hall and Oates.
"I was in it, I was out of it, I was in it and I was out of it — things happen," Rivera says now. "A quote from my father: 'If you have a plate of food, don't look around to see what other people are eating.' You make a commitment, and the word 'commit' is in there, so you've got to do it. But I would love to have played in [Jagger's] band. To have both opportunities, man..."
Rivera writes that Jagger subsequently asked him to be the Rolling Stones' touring saxophonist. "I tell my wife, 'I'm gonna be a rock star! I'm gonna buy some new leather pants,' and she's like, 'Yeah, if that's what you think...'" The band later rescinded the offer apologetically when Keith Richards pushed for longtime Stones sideman Bobby Keys.
On His Performance Wishlist 
Rivera's played with some of the biggest names in rock history, but he's still got plenty of artists with whom he'd like to collaborate. "I'd love to play 'Sledgehammer' with Peter Gabriel, absolutely. I'd love to be onstage with him," he says. "I love Sting. And Dave Grohl, just to hang on a stage with him, to play saxophone with Dave Grohl, would be nuts. And Tommy Shaw [of Styx]. He's got a great voice and is a killer guitar player. And he's a sweetheart. Him and Jack Blades [of Night Ranger] did this covers thing [2007's Influence], and I got to sit in with them and played 'Summer Breeze' on soprano [saxophone]. It was just wonderful."
Billy Joel Albums Ranked
From 'Cold Spring Harbor' to 'River of Dreams,' we run through the Piano Man's LPs from worst to best.