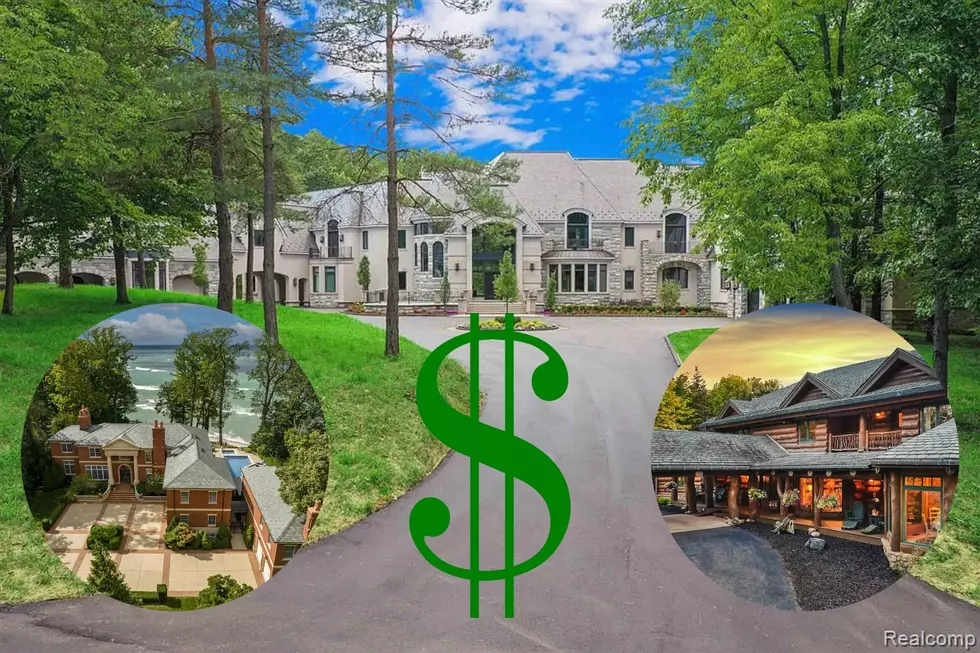 The 10 Most Expensive Homes For Sale in Michigan 2023
Zillow/Canva
You're about to see some of the most beautiful and expensive homes in the state of Michigan.
Whether sitting on the water, in the middle of a forest, or in the city, Michigan's mansions are nothing short of amazing.
See Also: Michigan Man Captures Breathtaking Photos of U.P.'s Winter Wonderland
While all of these homes are way out of reach for most of us, they are still fun to look at. It's always cool to go through the homes of other people and see how they live. Obviously, these people have been living the good life.
From $7M to $18M, these Michigan homes are truly some of the most unique that you'll ever see.
Some of the homes that you're about to see come with indoor swimming pools and hot tubs, huge movie theater rooms, indoor basketball courts, tennis courts, heated floors, elevators, golf simulators, gaming rooms, gyms, saunas, bars, boat garages, waterfalls and everything else you can imagine.
These Michigan mansions can be found in Petoskey, Alpena, Rochester, Lakeside, Franklin, Watersmeet, Howell, West Bloomfield, and Gross Pointe.
Keep in mind, these are the 10 most expensive homes that are listed on Zillow. There may be other homes that are more expensive in Michigan but are not listed with Zillow.
The 10 Most Expensive Homes for Sale in Michigan 2023
According to Zillow, these are the 10 most expensive homes that are currently for sale in the state of Michigan.
Michigan Airbnb Has a Underground Bowling Alley
The Lanes offers exclusive world-class accommodation that comes with a bonus...a bowling alley. This unique stay is located in Evart, Michigan, and is surrounded by a beautiful forest. It's all about the wilderness, privacy, relaxation, and bowling at this killer Airbnb.
$7M Unfinished Home on Torch Lake is Strangest House on the Block
This unfinished home on Torch Lake in Michigan looks like something from a fairy tale and comes with a price tag of $7 million.
This Double-Wide in North Branch is Over $500K