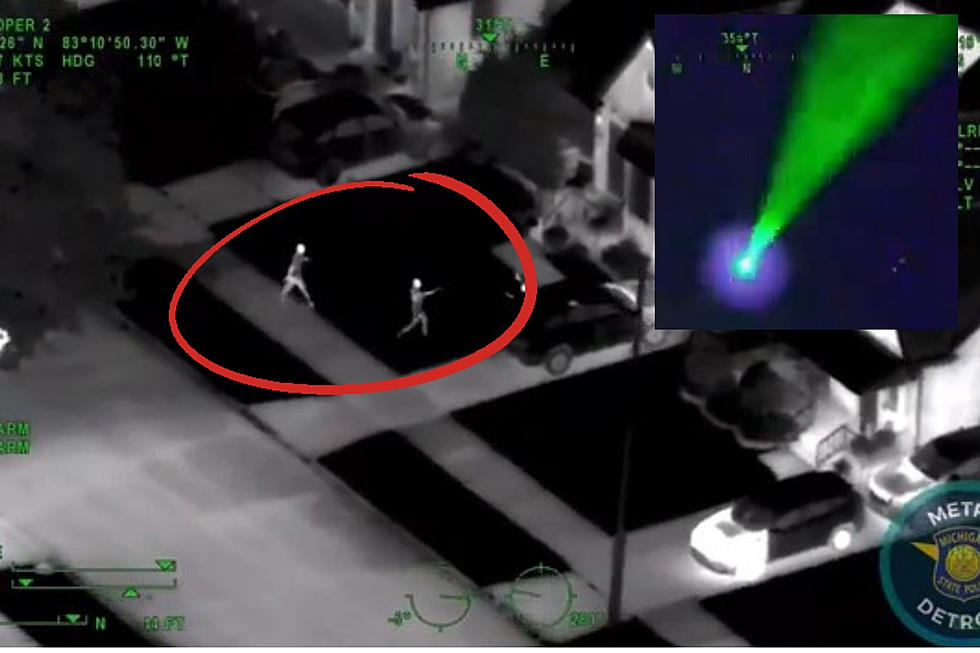 Two Minors Busted for Shining a Laser Pointer at Aircraft Near Detroit
WILX News 10 | Lansing & Mid-Michigan via YouTube
Two kids in the Detroit area were caught and one was arrested after allegedly shining a laser pointer at an aircraft.
The incident occurred late last week in the city of Dearborn.
Michigan State Police posted a video of the incident on the social media platform X, formerly known as Twitter. The video from the aircraft is included below. There are times when the camera is blinded by the laser beam.
Pilot Pinpoints Exact Address
"Hey, we're getting lasered on Calhoun Street, near Morross, I'll get you an address here in a minute," the pilot is heard saying in the video. "You got any troopers nearby?"
It's remarkable how clear the video image is from the sky. From the pilot's vantage point, he's able to ascertain that the two subjects appear to be teenagers. The pilot believed that one was a male and one was a female.
Eventually, police were able to zero in on the suspects. One of the two was arrested and the laser pointer was confiscated, according to WILX-TV.
The teen was eventually released to his parents, and the video was submitted to the prosecutor's office for review.
Pointing a Laser at Aircraft is Illegal
The Michigan State Police office issued a reminder in the tweet that it's illegal (on both a state and federal level) to point lasers at aircraft.
"Just a reminder:  Do not point a laser at any aircraft, it is illegal in Michigan and federally as well. It is just not worth it as these two juveniles found out!"
$5.6 Million Luxury in the Most Expensive Home for Sale in Genesee County
Three floors of pure luxury can be yours. Listed for $5,600,000, this estate located on Silver Lake in Fenton, Michigan is the most expensive home currently for sale in Genesee County. With just over 16,000 square feet of living space with 5 stunning bedrooms and 8 elegant bathrooms. The home also sits on beautiful property with h 378 feet of frontage on the popular Fenton lake, and pristine landscaped grounds that make the property an instant standout. Take a look inside.
LOOK: 40 Discontinued & Special Edition Kellogg's Cereals
Gerald Ford's Family's Summer Cottage
This quaint cottage near Holland, Michigan is where Gerald Ford's family vacationed through the 1960s.
The 900-square-foot cabin was built in the early 1900s and features three bedrooms, two bathrooms, and a rich history.