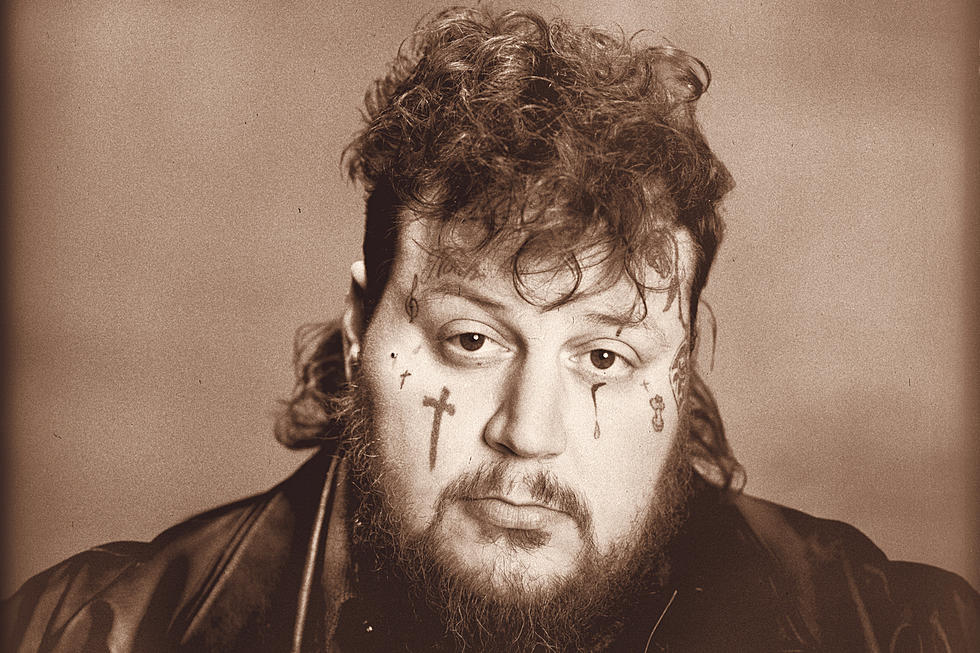 Jelly Roll Opens Up About Country + Rock, Shares Details on Next Album – 'Just Put Out Good Music and Hope It Helps People'
BBR Music Group
2023 is shaping up to be the year of Jelly Roll.
His latest album, Whitsitt Chapel, came out on June 2 and debuted at No. 1 on Billboard's Top Rock & Alternative Albums chart, No. 2 on their Country Album chart and No. 3 on the all-encompassing Billboard 200. Just a few days prior, he released his documentary, Save Me, and he's mere weeks away from kicking off his massive Backroad Baptism arena tour.
Those are just a few of the top-level accolades Jelly Roll is celebrating; don't forget, he was featured in The New York Times, he's picked up a few awards already this year and David Draiman gave him his personal stamp of approval on Twitter.
"I feel on top of the world," Jelly Roll told Chuck Armstrong on Loudwire Nights (July 6).
"I mean, it's hard to feel any other way. I could not even describe how this feels. The beginning of 2022, my first show of the year was at an 800-person club in Buffalo, New York. The year ended with 16,600 people at the Bridgestone Arena in Nashville, completely sold out."
Writing—and Rewriting—Whitsitt Chapel
When Jelly Roll gets asked about different genres—country music this or rock music that—he doesn't get too hung up on the specifics.
"I write everything from an acoustic guitar," he explained to Chuck, noting that he never approaches a song with a specific sound or genre in mind. "When we send it to production land, I immediately take myself out of that. When i'm going to the writer's room, I know what I'm doing. I have no problem peacocking and putting my chest out and swinging my buttcheeks around, you know? But you put me into a production room? They start speaking Greek immediately. So I get it back and then it's a vibe."
As he talked about songwriting and production, Jelly Roll wanted to get deeper with Chuck.
"If you think about the top line of my lyrics—Jelly Roll lyrics—the lyrics from 'Son of a Sinner' aren't much different than the lyrics from 'Need a Favor' and they're not much different from the lyrics of 'Dead Man [Walking].' The only thing that's changed in that is the production."
After he finished writing Whitsitt Chapel, he found himself unsettled. Even though he said he had nearly 60 songs ready for his next album, something was holding him back from moving forward.
But when he witnessed his daughter, Bailee, get baptized at a small church when she was 14 years old, everything changed for him.
"I got baptized in a little church, too," he told Chuck about growing up attending Whitsitt Chapel in Nashville, the church his new album is named after. "I started talking to her about Whitsitt Chapel and then I started listening to these songs [I had written] and I was just like, man, I want to write an album. I don't want to write a bunch of songs to pick out."
Thanks to his daughter, Jelly Roll scrapped those songs and went back to work.
"That felt kind of purposeful and a little bit hopeful and I wanted to tell a story and I wanted to get romantic about the old days," he said. Jelly Roll reminisced about how he ended up in jail after his own baptism and then spent 10 years in and out of the system.
"I thought about the 14 year old in that church who now is 39 and has a 14-year-old going to church. At that point, it's like, what's that story from song one to song 12? How do I tell that story? That was a big perspective shift...it just totally circled back around."
What Jelly Roll's Next Record Might Look and Sound Like
Whether Jelly Roll considers Whitsitt Chapel an official country album or not, one thing is certain: He's excited to start work on his next record, which he promises is going to be his rock record.
"I'm a huge fan of a guy named Tech N9ne," he said. "This cool thing he used to do, where every like third album, he would drop an album called the Collabo and it would be 10 or 12 songs, like a real LP, but he would have a feature on every song. And I called Tech N9ne myself and said I'm not gonna call it Callabo, but I just want you to know, before you read about it through the media, I'm stealing the idea. And that's how I'm going to do my rock record."
The list of potential collaborators seems endless and he's already received praise and support from artists like David Draiman, Shinedown's Brent Smith and Falling In Reverse's Ronnie Radke—as he explained on Loudwire Nights—so it might be a safe assumption that he's hoping to include them.
And Jelly Roll's dream isn't simply to include a guest's vocals on a track, but it's to truly collaborate with the artist, every step of making the song.
"I want to go with them and write it together and produce the record together with each one of these artists individually and kind of make a story ... I've already talked to a bunch of people to set up all this stuff. I'm hoping to get into real album mode come after the tour. So I'll write on tour, I'll start having pitch ideas for people."
READ MORE: Jelly Roll Names Corey Taylor as His Dream Rock Collaboration
At the start of the conversation on Loudwire Nights, Jelly Roll joked about trying to get Brent Smith onto one of Whitsitt Chapel's songs—album opener "Halfway to Hell"—potentially foreshadowing a future partnership.
"I've been messing with the label. I call the label almost weekly going, 'Dude, why don't we take the mandolin out and put a distorted guitar on it and put Brent Smith on the second verse? Re-release that thing, man, that's a rock song."
What Else Did Jelly Roll Discuss on Loudwire Nights?
What it meant for him to get David Draiman's public support and the other rock and country legends who have gotten behind him and his music
Why he considers himself "in the middle" and why it's tough to live that way
Why he thinks there's room in rock and country for guys like him and Hardy
Listen to the Full Interview in the Podcast Player Below
Jelly Roll joined Loudwire Nights on Thursday, July 6; the show replays online here, and you can tune in live every weeknight at 7PM ET or on the Loudwire app; you can also see if the show is available on your local radio station and listen to interviews on-demand. Stream Whitsitt Chapel at this location and then check out Jelly Roll's full tour schedule.
Best Rock + Metal Albums of 2023 (So Far)
A chronological look at the very best albums in heavy music to come out so far in 2023.
22 Legendary Bands With 5 or Less Studio Albums
You don't have to be the most prolific band to be legendary.