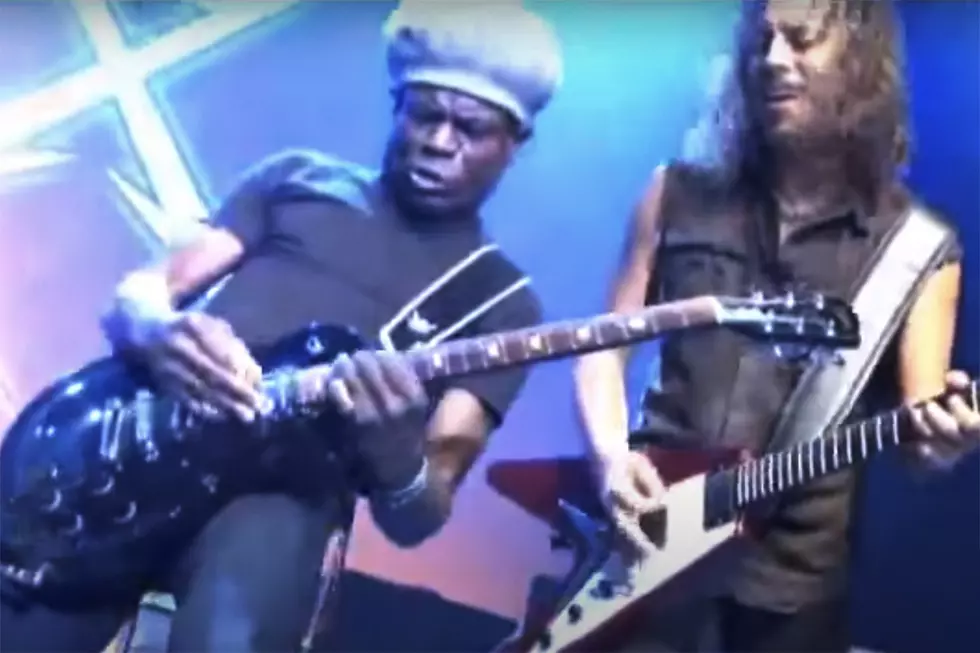 Early Metallica Collaborator's 'Hit the Lights' Regret
YouTube
Lloyd Grant, the guitarist who played lead guitar on Metallica's first-ever recording, said he'd have approached it differently if he'd known what it was going to achieve.
Drummer Lars Ulrich was still in the process of forming the band, and they didn't yet have a lead guitarist when they tracked "Hit the Lights" for inclusion in 1982's Metal Massacre compilation album. Its success began their journey to global acclaim.
"Lars was just desperate to find people he could play with," Grant told Metal Hammer in a recent interview. "We were just two guys both looking for like-minded people, not just someone who could play but someone you'd get along with enough to move in together."
While the pair would meet regularly and had started writing songs together, Ulrich was also working with others. "We would be jamming in Lars' apartment," Grant said, "but he was still looking for people to play with and so when I wasn't there he was finding other people to play with too. … I do remember he brought a guy into the practice once and it was James Hetfield. They'd got a tape and it was an early instrumental version of 'Hit the Lights,' but at that point there still wasn't a name for the band."
Listen to Metallica's 'Hit the Lights' from 1982
Grant thought the "Hit the Lights" demo was "right up [his] alley" when he first heard it, and recalled wishing he'd been one of its writers. While Hetfield and Ulrich had been joined by early bassist Ron McGovney, they still hadn't recruited Dave Mustaine as lead guitarist. "We weren't playing any more, but I do remember he still approached me when it was just Lars, James and Ron to go and play with them," Grant said. "I went over and we went through it a couple times, which was really awesome.
"After that I got another call, this time to come and record 'Hit the Lights' – put down a guitar solo because they were trying to get the song onto the compilation Metal Massacre. They literally turned a recorder on and just got me doing a solo; if I'd known just how much interest it was going to create I'd have spent way more time on it!"
Grant's ambition of becoming a full-time musician was never realized, partly because he lived alone at the time and needed a job to "keep a roof over my head and keep my car on the road." He remained in close contact with Ulrich for several years afterwards, and he's still invited to attend Metallica events, including appearing on stage with the current lineup, Mustaine and McGovney in 2011.
Asked how it felt to be part of the band's legacy, he replied: "It feels super important, my name appearing in the same breath as the story of Metallica. It's pretty interesting, but obviously at the time we couldn't predict the future so nobody knew what was going to happen!"
Watch Lloyd Grant Guest with Metallica in 2011
Metallica Albums Ranked
There are moments of indecision when compiling this gallery of Metallica Albums, Ranked Worst to Best. After all, we really could have had – for the first time ever – a three-way tie for first.