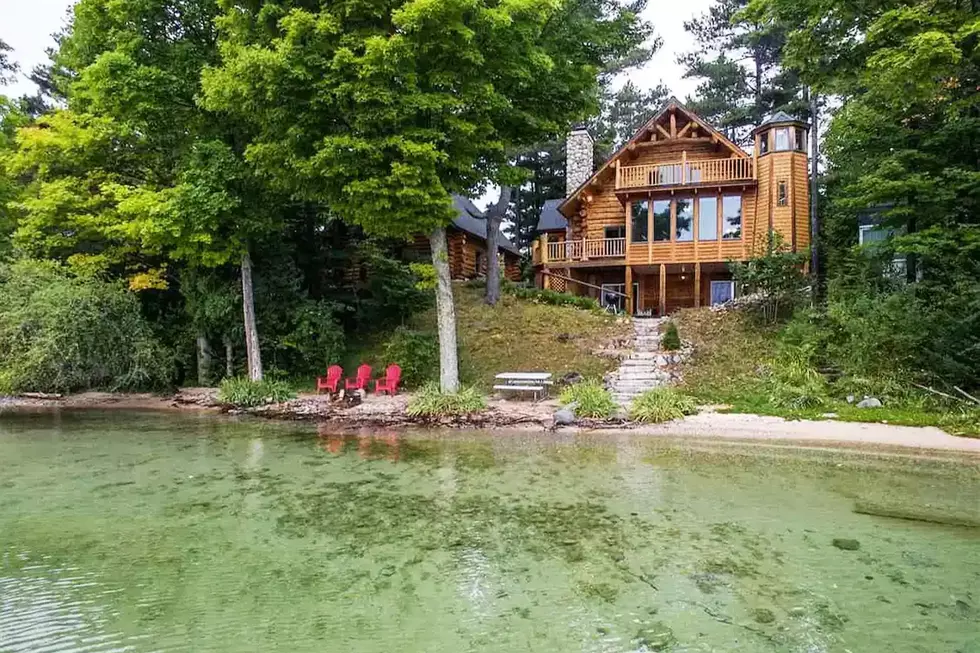 This Log Cabin Airbnb is Only 22 Steps From Lake Michigan
Airbnb
If you're looking for a log cabin Airbnb that sits directly on Lake Michigan...you found it. Located in Suttons Bay, this massive log cabin is literally 22 steps from the back porch to Lake Michigan.
Over the past of couple years, I've fallen in love with renting Airbnb properties. As of recently, I'm all bout these Airbnb log cabins that you can easily find all over Michigan. However, I use the term "cabin" loosely because the ones I've come across are anything but a cabin. This one in particular is referred to as a large lake house.
According to the extremely positive reviews, this four-bedroom rental has 9 beds and sleeps 12 people comfortably.
Apparently, this lake house is tough to rent during the summer months, for obvious reasons. The host says that it might be a little easier to book in the fall or winter when there's less demand. To rent this lake house, it'll cost you $907 a night which is nothing if you're booking with a large group.
If you're lucky enough to get into this place, you'll love the fact that while you're on Lake Michigan, you can also easily walk to downtown Suttons Bay (about 1 mile) where you'll find a bunch of unique shops, restaurants, and wineries.
The last time I wrote about one of these log cabin rentals, I loved it so much that I reserved it for me and 15 of my friends.
Whether you're looking to rent or you just enjoying looking at these homes, take a few minutes and check out what this place has to offer in the photo gallery below. I'm not going to lie, it's cool as hell.
Michigan Airbnb Has a Underground Bowling Alley
The Lanes offers exclusive world-class accommodation that comes with a bonus...a bowling alley. This unique stay is located in Evart, Michigan, and is surrounded by a beautiful forest. It's all about the wilderness, privacy, relaxation, and bowling at this killer Airbnb.
This Log Cabin Airbnb is Only 22 Steps From Lake Michigan
This Airbnb can accommodate 12 people, comes with a private beach, and it's Only 22 Steps From Lake Michigan
Sleep Among The Trees in This Awesome Airbnb Treehouse in Michigan
Serenity Now Treehouse is a real treehouse built around four strong Oak trees in Whitehall Michigan. It's the perfect spot to unplug and chill for a couple of days.
Airbnb Cabin in Northern Michigan is Huge and Sleeps 16
Escape up north to this Shanty Creek vacation rental - the perfect getaway no matter the season.