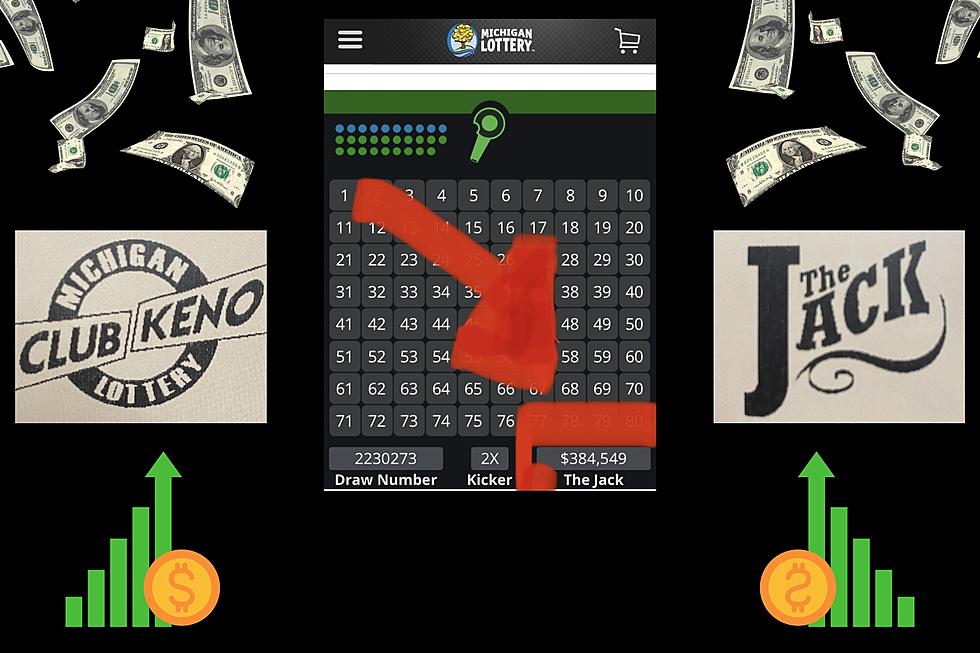 Michigan Club Keno: Jackpot Set to Reach Record High
Credit: Michigan Lottery App / Duffy Connolly / Canva
Before we get into the specifics of how big this Michigan Lottery 'JACK'-pot actually is right now, it is important to realize how long the 'JACK' has been in existence.
When Did Michigan Lottery Add the Jack to Club Keno?
14 years ago, on June 1st, 2009, the Jack was added as an add-on game to Michigan's already extremely popular lottery game, Club Keno.
What Is Club Keno's Jack?
The Jack is simply an add-on feature to any Michigan Lottery Club Keno ticket. By adding $1 more per draw, you get an 'easy pick' set of 8 numbers between 1 and 80 that are played as a separate game from your Club Keno numbers each draw. These are your 'Jack' numbers.
Why Play the Michigan Lottery Club Keno Jack Option
Similar to any other progressive type of lottery jackpot, the Club Keno Jack option grows and grows as people play it until, eventually, someone wins it.
The advantage is that, for that extra $1 per draw, you have a chance of winning much more than the $10,000 top prize you would have won if you would have simply played an 8-Spot draw and hit every number.
What Is the Largest Michigan Lottery Club Keno Winning Jack to Date?
In July 2014, Tonya Hanson, of Rapid River, and Dale Lehtikangas, of Gladstone, won the largest Club Keno prize in the game's history, which was a whopping $448,055. And, although it has gotten up in the 6-digit range since then, nothing has really been close to the big one until now.
Michigan Club Keno Jack Could Break Record Today
To get you an idea of how quickly the 'JACK'-pot is currently growing, at the time the screenshot was taken of the Michigan Lottery Club Keno image at the top of this article, the Jack was sitting at $384,549.
As of this point in the article, and not even 20 Draws later, it has gone up $1,313 and bars aren't even open yet. This can only mean that people are trying their luck at local gas stations or, purchasing tickets directly off the Michigan Lottery app.
Regardless, the higher the 'JACK'-pot goes, the more people bet to try to win it. With that said, today's 'JACK'-pot has an incredible chance of reaching a record high. That is, unless someone wins it before that happens. Are you feeling lucky?
These Are the Places That Have Sold Million-Dollar Michigan Lottery Tix in 2023
From scratchers to state lotto games to the national lotteries, Michigan's got 16 new millionaires so far in 2023 thanks to the Michigan Lottery. Here are the stores that sold those winning tickets.
MIND BLOWING ULTRA-REALISTIC CAKES by GROSS POINT NATIVE @TheJonnyCakes
Here are some of the most hyper-realistic cakes you will ever see. From clocks, to plants, to mac-n-cheese, and everything in between. Prepare to have your mind blown. Because with these works of art, you CAN have your cake and eat it too!