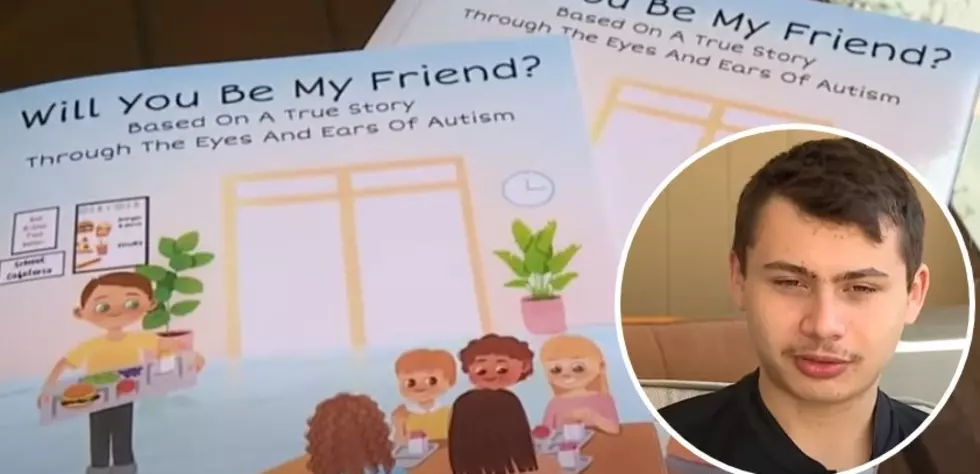 Michigan Teen With Autism Is A Best Selling Author
WXYZ via YouTube
This is too cool. A Michigan teen with autism wrote a children's book about autism called 'Will You Be My Friend?'. It gets even better, the book has made Grant Harrison of Shelby Township a best-selling author on Amazon.
Grant Harrison, 17, has a form of autism called Aspergers Syndrome. According to WXYZ, 'Will You Be My Friend?' takes readers back to a particular moment in Grant's life when he was playing drums at his school's talent show. Through the help of family and friends, Grant persevered - and so can all of us.
I have not yet read the book, but I am already inspired by reading the description (written by Grant) on Amazon,
Hello, my name is Grant Harrison and I have high-functioning Autism called Asperger's.
I am so excited to have this opportunity to share my children's book "Will You Be My Friend" based on a true story through the eyes and ears of Autism with so many people.
If you're looking for a fun inspirational true story about a boy who feels that he doesn't fit in with other kids in school until he is teamed up with a new student for the school talent show. She shows him that he's not so different from many other kids in his school, and it's okay to be you.
This is based on an actual event that happened in my life and by sharing this story I hope that I can inspire other kids to step out of their comfort zones the same way I have.
I don't look at having Autism as a disability but as more of a challenge. It makes me work harder to move those mountains that so many times block the path to where I want to go.
This book is not just a must-read for children with autism, I think it is a must-read for everyone. We can all learn a lot from this young man. Grant Harrison will be attending Oakland University with a focus on computer science and music. Did I mention he earned a scholarship? He did. Congratulation Grant, I for one can't wait to see what you accomplish next.
For more on this awesome Michigan teen, check out the video below.
25 Famous People Born in Good Ole Flint, Michigan
A list of 25 famous figures that were born in Flint, Michigan.
14 Famous and Notable People from Lansing, Michigan
Michigan has produced many celebrities and famous people over the years. Check out 14 famous or notable people born in the state Capital of Lansing, Michigan here.
16 Famous or Notable People Born in Michigan's Upper Peninsula
Michigan has unleashed a lot of talent into the world. Check out these 16 famous and/or notable people that were born in Michigan's Upper Peninsula.