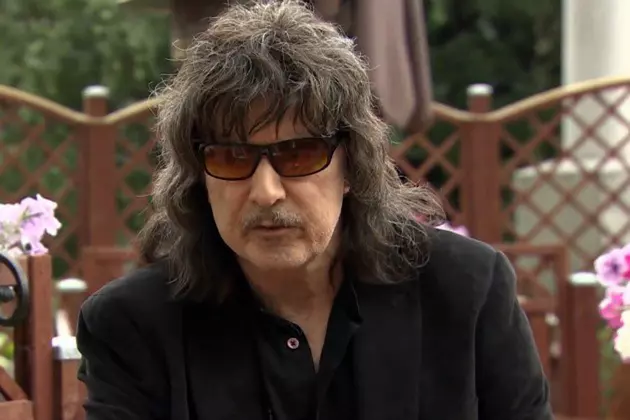 Ritchie Blackmore Wishes Joe Lynn Turner Was Honored With Deep Purple at Rock Hall Induction
YouTube
The 2016 Rock and Roll Hall of Fame class has officially been inducted following last Friday's (April 8) ceremony. Among the inductees were a long-overdue Deep Purple, whose rich history came out on full display leading up to the event. Iconic guitarist Ritchie Blackmore was barred from taking part by the band's management and the controversy still rages regarding which members should have been included among the honors. Blackmore has weighed in, making his case for short-lived singer Joe Lynn Turner.
A statement from Blackmore made its way to his Facebook page as the guitarist described Turner's lone album with Deep Purple as one of his favorites.
When asked in February earlier this year about his thoughts surrounding the controversy of Deep Purple's induction and that tensions between Blackmore and current members of the band, Turner said, "No one contacts Ritchie. We communicate with his manager. You don't communicate with Ritchie. As witnessed by the whole [Rock and Roll] Hall Of Fame that is happening now that he is not allowed. Because if he comes, Ian Gillan and the rest of the band won't come. If you ask me, they're acting like children and it's a mess and a shameful situation. It's terrible that it happened."
Turner famously fronted Rainbow after their split with Ronnie James Dio, marking the first time he worked with the legendary Blackmore. He sang on three records, Difficult to Cure, Straight Between the Eyes and Bent Out of Shape before the group's disbandment in 1984. He would return to work with Blackmore in Deep Purple in 1989 and was featured on just one record, 1990's Slaves and Masters. Turner departed the band in 1992 and was replaced by Ian Gillan.
Blackmore did not turn up at the ceremony, but, as previously announced, he has reactivated Rainbow with a new lineup and will be performing at select festivals, marking his triumphant return to playing rock music.
See Where Ritchie Blackmore Ranks Among the Top 50 Hard Rock + Metal Guitarists of All Time
Glenn Hughes Discusses Deep Purple's Induction Into the Rock and Roll Hall of Fame