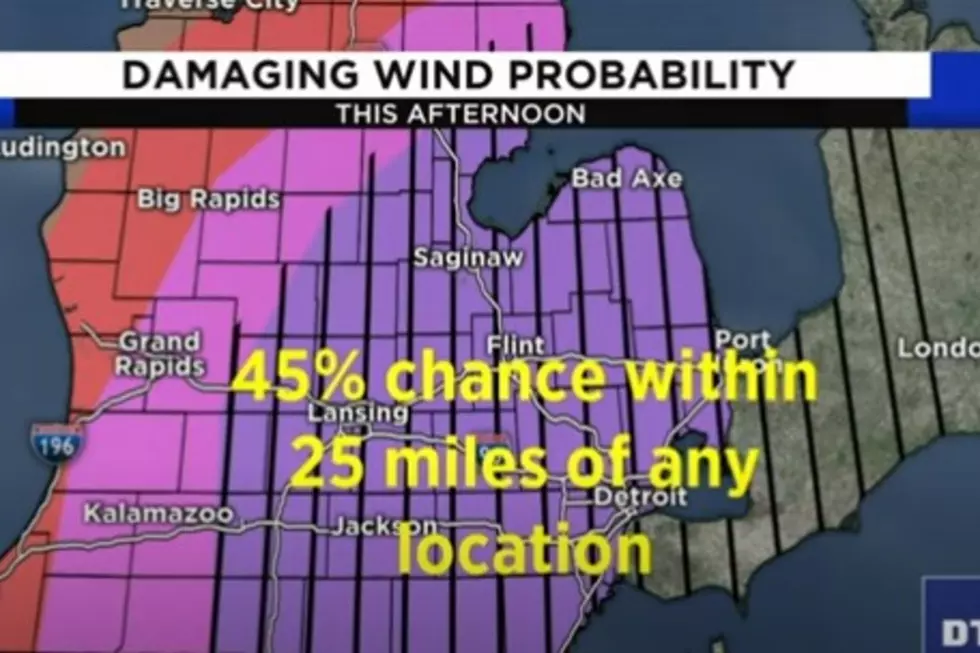 Severe Weather Could Mean Damaging Winds, Possibility of Tornadoes Wednesday [VIDEO]
Click On Detroit | Local 4 | WDIV via YouTube
Enter your number to get our free mobile app
First of all, we've lucked out so far. The remnants of Tropical Storm Cristobol which has been hammering the gulf coast was expected to bring heavy rain and storms to our area overnight. We missed it by THAT much.
Round two is expected this afternoon. This time, we're not likely to be as lucky.
Strong damaging winds could gust up to 70 miles per hour this afternoon. The window for severe weather is probably sometime between 2 and 9 pm.
According to the video below, there is a 45% chance you'll be within 25 miles of winds that could produce damage. That goes for most of us in the lower peninsula, that area stretching from the Ohio/Indiana borders well into Northern Michigan.
And then, there's a small chance of tornado activity.
He says that while it's possible for all the possible criteria for a tornado to be met, one part of the equation may be get left out, leaving us with "the wind and zero spin-ups."
Take a look again at the video below from WDIV. Most of Michigan's lower peninsula is at about a 5% risk of being within 25 miles of a tornado. Although 5% doesn't seem like much, tornados are rare and we should all be weather-aware this afternoon as the risk increases.
Experts say it's best to plan ahead. Know where your safe place is and be ready to take shelter if necessary. Your best bet is a basement or the smallest room in the center of the lowest level of your house or the structure where you are.
Click here for current conditions and the complete forecast.
KEEP READING: See states hit hardest by COVID-19's impact on tourism