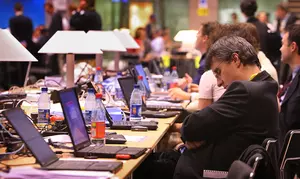 Sleep Apnea Has Become a Significant Health Issue
Getty Images
According to the Lansing State Journal, sleep apnea has become a significant health issue in the United States.  It's estimated that 22 million Americans suffer from sleep apnea.
Sleep apnea can be a life threatening condition which causes patients to repeatedly stop breathing while they're asleep.  There are different types of sleep apnea.
The most common is obstructive sleep apnea, which is when you stop breathing because your upper airways muscles relax while you are sleeping and cause obstruction of airflow to your lungs.
The effort it takes to respond to the decrease in oxygen levels is hard on the body.  In some cases, untreated apnea can lead to high blood pressure, cardiac arrhythmia and stroke.
As with most medical conditions there are factors and indicators which put you at greater risk of being diagnosed with sleep apnea.  Please click on the above link to learn more about sleep apnea.