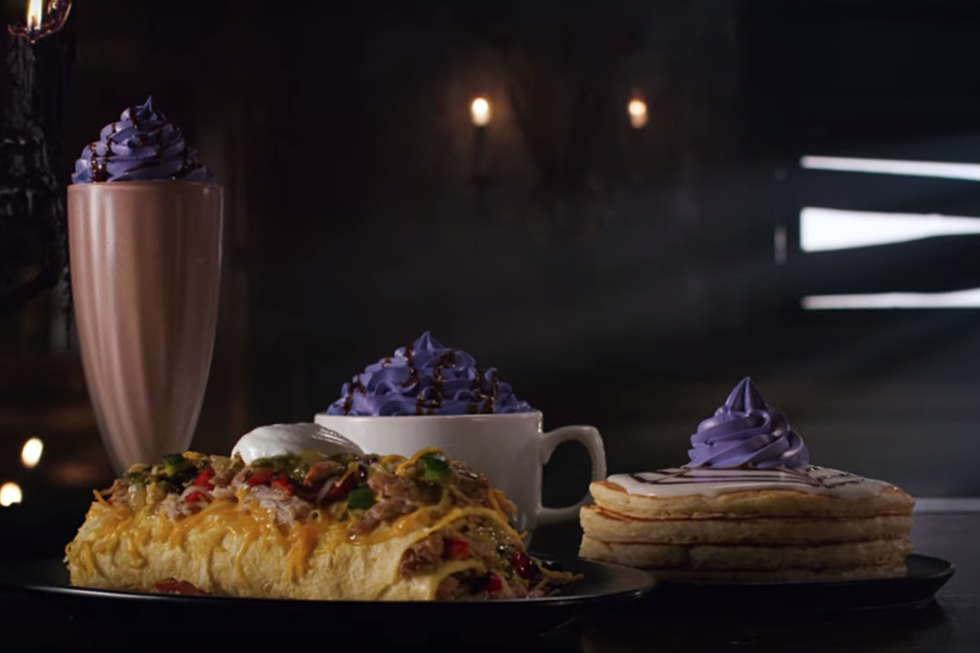 'The Addams Family' Menu at IHOP Features A Lot of Purple
IHOP
It is with a heavy heart and an unsettled stomach that I bring you this update from the bleeding edge of the world of movie food: The brilliant, deranged madmen and women of the International House of Pancakes are at it again. This time, they have an all-new menu connected to the animated version of The Addams Family. 
And. It. Is. Very. Purple.
A breathless press release hypes the fact that "much like the new film, IHOP is putting a dreadfully delicious twist on classic menu items by adding "webs" of HERSHEY'S Chocolate Syrup and white icing, violet whipped topping and more to sweet and savory favorites." Precisely as Charles Addams intended.
Here is the full lineup of new items tied to the film:
Wednesday's Web-Cakes: Fluffy, signature Buttermilk pancakes topped with cupcake icing, webbed with HERSHEY'S Chocolate Syrup and topped with violet whipped topping.
Gomez' Green Chili Omelette: Marinated pulled pork, Jack & cheddar cheeses, fire-roasted peppers and onions, and green chile verde sauce topped with sour cream.
Uncle Fester's Chocolate Ice Scream Shake: A haunted house-made HERSHEY'S chocolate ice cream shake with violet whipped topping.
Morticia's Haunted Hot Chocolate: Toasted marshmallow hot chocolate topped with violet whipped topping and a drizzle of HERSHEY'S Chocolate Syrup.
Kooky Kids Combo: A Wednesday's Web-Cakes served with one scrambled egg, one bacon strip and one pork sausage link.
If you would like evidential footage that these foodstuffs are real, there is a commercial too:
The last time I was at IHOP was for their menu connected to the recent animated version of The Grinch. Everything on that menu was a bright and unsettling green; everything on The Addams Family menu is a sickly purple. At the very least, you cannot argue that the International House of Pancakes is pushing new ground in the field of Foods Of Unnatural Colors. Despite my doctors' advice, I will be eating this food very soon. It is available at IHOP until November 3.
Gallery — Unbelievable Movie Tattoos: