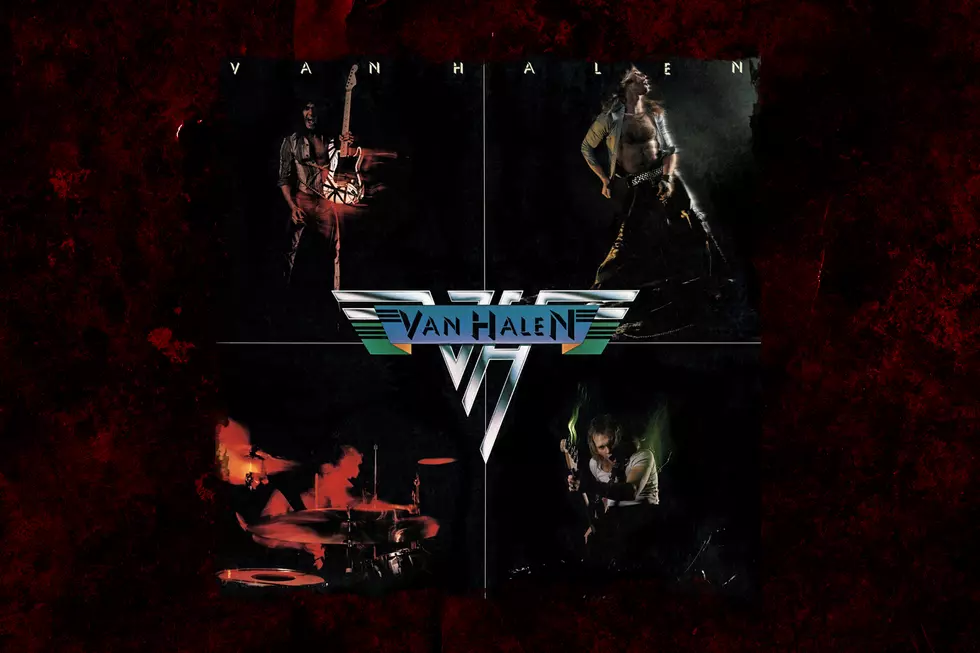 Van Halen Set The Rock World 'On Fire' With Their Debut Album
Warner Bros.
Loudwire is counting down the biggest moments in metal and hard rock, stretching from the dawn of Black Sabbath to the genre's promising future. Here, we take a look back at Van Halen's earth-shaking debut album. 
In February of 1978, Van Halen unleashed their self-titled debut album, forever changing the face of hard rock music, as well as inspiring millions of guitar players. David Lee Roth was one of the greatest frontmen ever, combining vocal chops with off-the-charts charisma and on-stage athleticism; he was 0% angst and 100% an entertainer. The fleet-fingered Eddie Van Halen, meanwhile, became an instant guitar hero and his influence is still felt decades later.
John 5 has a unique perspective on the band: he's a huge fan of Eddie Van Halen, and he went on to play a lot of Ed's parts when he was the guitarist in David Lee Roth's solo band. He tells Loudwire of his old boss, "When somebody says 'the whole package,' I really think Dave was the whole package. Everything from doing great interviews -- you have be cool, and you have to smart, and you have to be educated, and you have to be witty -- to the fact that he looked like a million bucks. And the sound, that sound, that deep singing voice with that high scream. To his stage presence with all the kicks and the splits… unbelievable. Then we still have the most important part, writing those melodies and writing those lyrics. That's the 'whole package.'"
"Then you get to Eddie, he's the Albert Einstein, the Thomas Edison, if you will, of guitar. What an inventor. He invented that look, that Eddie Van Halen stripe thing, which is so iconic all over the world. He invented an amazing style of playing. He changed the world, he changed guitar. And writing those songs, it was the music of a generation. Van Halen was our Beatles. And those songs are unbelievable, unbelievable."
Guitar hero Nita Strauss discussed Eddie Van Halen's iconic "Eruption" solo with us: "I'm a guitar player's guitar player, and I listen to music for the guitars, and I'm a big fan of instrumental guitar music. And the thing about 'Eruption' that I think sets it apart is that it is kind of like a 'civilian' instrumental guitar song. Somebody that doesn't play guitar, somebody that doesn't play music, somebody that's not involved in the scene, still knows 'Eruption.' Even when I started doing my guitar solo in the Alice Cooper show, 'Eruption' was what they gave me to reference. Alice's manager said, "Do something like 'Eruption,' but your own way," which is no small task for a guitar player.
Henry Rollins weighed in on Van Halen's debut as well. "I think it's one of the best first albums by any band in American rock music. I got the record for $4.99 at Kemp Mill Records after hearing 'Runnin' With The Devil' on the radio. It was a perfect mix of big guitar and almost Beach Boys-like backing vocals. Songs like 'Jamie's Cryin'' and 'Little Dreamer' walk a perfect line between rock and pop. 'Ain't Talkin' 'Bout Love' and 'Atomic Punk' are just brilliant. I still listen to that record. I saw Van Halen open for Nugent after he got the new line up on the 'Weekend Warrior Tour' and Van Halen just ran him over."
John 5 concludes, "You don't get many Van Halens in our lifetime, that's for sure. You do not get many Van Halens."