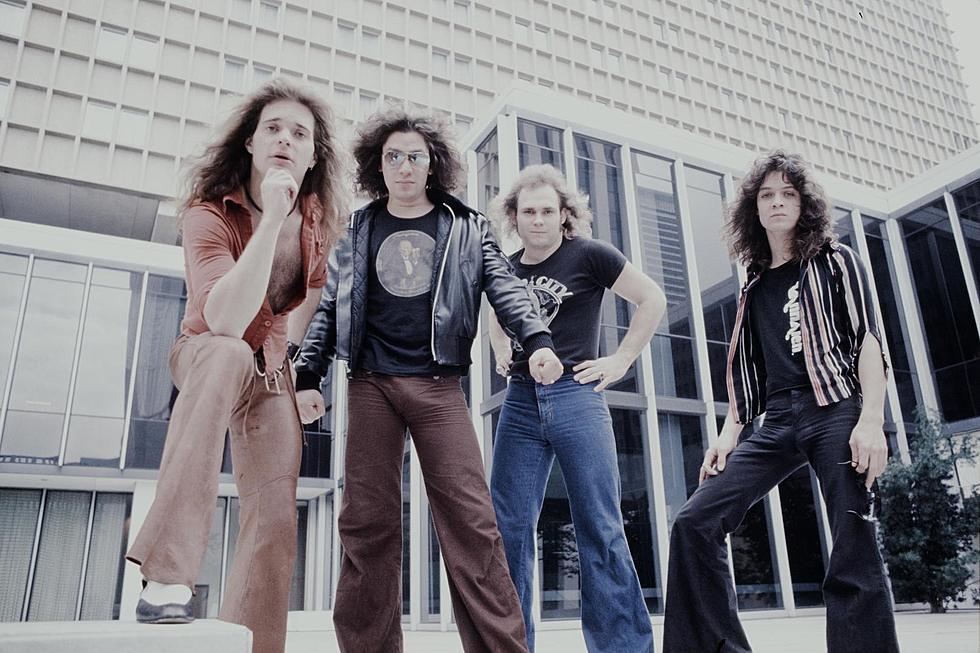 Van Halen Classic Lineup Farewell Tour Was in the Works Before Eddie's Death, Says Extreme's Nuno Bettencourt
David Tan/Shinko Music, Getty Images
In an interview with Tommy London on SiriusXM's Hair Nation, Extreme guitarist Nuno Bettencourt revealed that Eddie Van Halen told him in 2019 that he was working on reuniting Van Halen's classic lineup for a farewell tour.
The surface level ties between Bettencourt and the Van Halen camp are obvious — Gary Cherone, who has served as the only singer in Extreme, also fronted Van Halen for a brief period of 1996 through 1999 and was featured on the critical lowlight Van Halen III album that came out in 1998.
Bettencourt, a more than worthy shredder in his own right, had a longstanding relationship with Eddie and there was a mutual level of respect between the two guitarists. Eddie even used to play a riff from Extreme's "He-Man Woman Hater" during soundcheck at Van Halen shows.
Recollecting a moment from 2019 when he was recording a solo for the new Extreme song "Rise," Bettencourt says on Hair Nation that Cherone kept trying to get a hold of him by calling and texting, insisting he come downstairs to see who had turned up to visit. It was Eddie Van Halen.
READ MORE: See Photos of Guitar Legend Eddie Van Halen Through the Years
He goes on to explain that Eddie began to play him and Cherone some of his son Wolfgang's new music, which has since been released as the first Mammoth WVH album. "And [Eddie] was like a proud papa saying that [Wolfgang] played all the instruments and he did that and everything else," Bettencourt further recalls (transcription via Classic Rock).
The conversation then shifted to the Van Halen band, where Bettencourt became privy to some exciting developments.
Revealing that a classic lineup reunion was in the plans, the Extreme guitarist continues, "And then he said something really cool, he was like, 'Hey, just between us, I'm like, I wanna let you know, like Van Halen's coming back and we gonna go out the way we came with Michael. We're planning a run, and we're gonna go out the way we came in like a farewell tour, but like, do it old school.'"
Bettencourt's sentiments at the time were that this was "way overdue" and also noted that Wolfgang, who played bass in Van Halen since 2006, was the one reaching out to classic bass player Michael Anthony.
In late 2020, Wolfgang had said on The Howard Stern Show that his father was plotting a "kitchen sink" tour, with considerations for not only having Anthony return to the fold, but for also having singers David Lee Roth, Sammy Hagar and Cherone all onstage.
"If only things had been better, it would have been amazing," Wolfgang said at the time.
Listen to the interview clip further down the page.
The aforementioned "Rise" is one of the new tracks on Extreme's forthcoming album, Six, which comes out on June 9 through earMUSIC. Head to the band's website for more album details and to see all of their upcoming tour dates.
Wolfgang, meanwhile, will release Mammoth II, the second Mammoth WVH album, on Aug. 4. The group is currently on the road with Metallica and will later embark on a tour with Alter Bridge and Sevendust.
Nuno Bettencourt, SiriusXM Hair Nation Interview
Bands Who Had Final Tours That Weren't Final
Whether due to interpersonal turmoil, the desire to pursue other creative endeavors and/or something else, here are 10 acts who – intentionally or not – announced final tours that, well, weren't actually final.