David Coverdale Hopes to End Fight With Robert Plant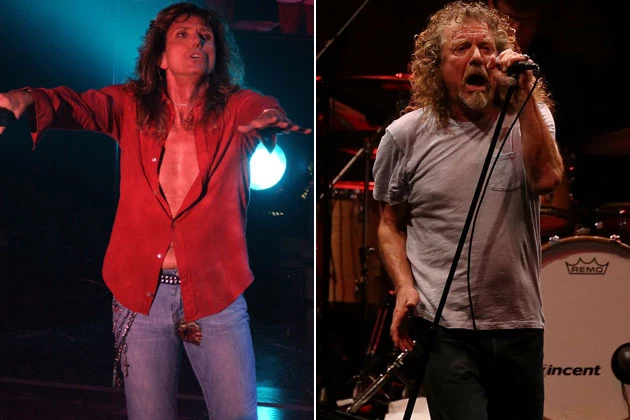 David Coverdale told TeamRock Radio's 'Classic Rock Magazine Show' that he wants to put an end to his decades-long feud with Robert Plant. He's apologized for the "ugly things" he's said over the years and hopes the two can become friends again.
The battle began 20 years ago when Jimmy Page joined the Whitesnake frontman for the 'Coverdale / Page' project. Page's former Led Zeppelin bandmate Plant referred to the team-up as 'David Cover-version' at the time. Coverdale fired back at Plant, saying "There's certainly no love lost between myself and Robert … I wouldn't send him cat food if he was starving."
Now Coverdale says he's sorry for their 20-year fight. In the interview, which is scheduled for broadcast on June 19, he says he recently talked to Page and told him that he'd "love to buy Robert a drink." According to Coverdale, he told the Zep guitarist, "When you speak to him, offer my sincere regrets for any negative things I've ever said, which were mostly defensive."
Coverdale admits he doesn't know how Plant will respond. "Robert might go and tell him to f— himself," he said. But Coverdale says he hopes the two can put aside their differences. "I don't hold any animosity, just disappointment in myself that I took the bait and ran with some ugly things," he said.
The Whitesnake singer is putting together a new live album by the band he's fronted off and on since 1978. Since then, critics have unfavorably compared the former Deep Purple vocalist to Zep's singer. Coverdale pretty much acknowledges his debt in the upcmonig interview. "I hold [Plant] in the highest esteem as a human being, as an artist," he said. "I really would like to, you know, sit down, buy him a drink, shake hands and say, 'I'm really sorry, you know, can we be friends again?'"
Source:
David Coverdale Hopes to End Fight With Robert Plant