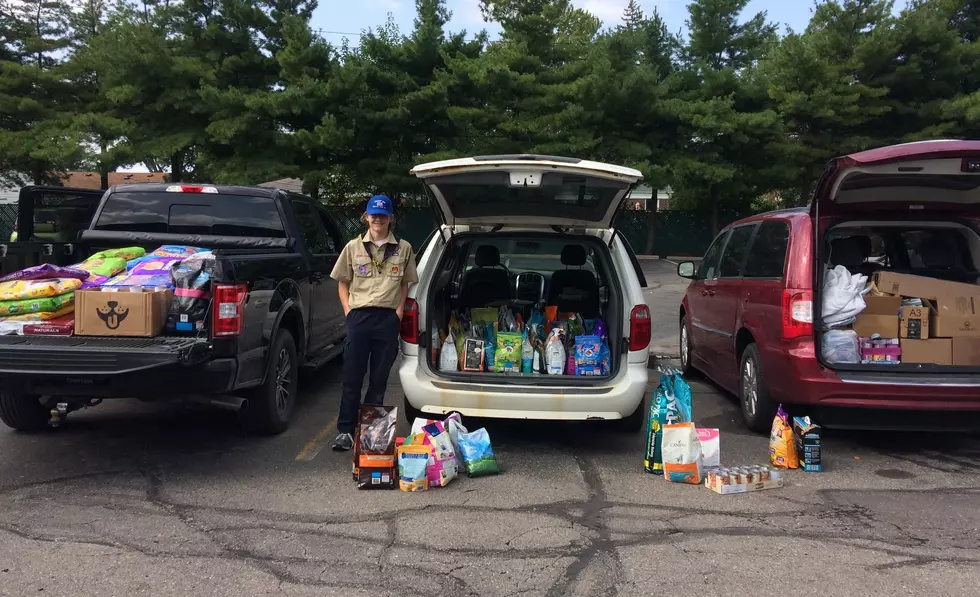 Boy Scout Collects 1,600 lbs of Food for Michigan Animal Shelter – The Good News
All About Animals Rescue via Facebook
It's his Eagle Scout project, and we're gonna take a wild guess that he's gonna earn that rank.
Cole Zurawski lives in Macomb Township. He's 16-years-old and is a junior at Dakota High School. He's been a Boy Scout since the age of 6 and he's been movin' on up ever since.
Cole is working on his Eagle Scout project - he wanted to collect 1,000 pounds of cat food for a Michigan animal shelter.  One of his cousins suggested All About Animals Rescue in Warren, so he made a visit before the pandemic hit in March. He found out through the volunteers and staff that they were most in need of cat and kitten food.
Luckily, this was a project that Cole could take on with minimal human contact. Despite COVID restrictions, he was able to get back on track in July. He contacted local pet stores and pet food companies and arranged for in-person drop-offs.
Donations poured in from local churches, pet stores, Chewy.com and more. Monetary donations were also part of what came in.
Yesterday, Cole showed up to All About Animals Rescue in Warren with almost TWICE his original goal - he arrived with 1,600 pounds of cat and kitten food.
There are still a few steps left in his Eagle Scout process, but we think that he'll probably pass with flying colors. Another good kid who is going to do great things in the future for his community and country. Thank you, Cole!
Enter your number to get our free mobile app
SEE MORE: Seven Species of Turtles You Can Find in Michigan