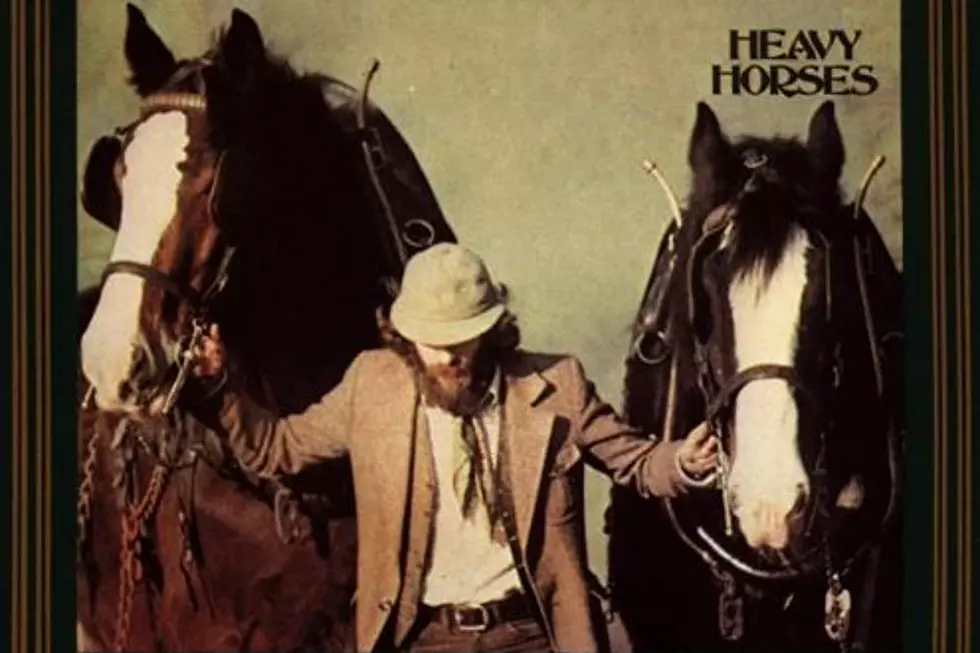 Why Jethro Tull's 'Heavy Horses' Is an Underrated Folk Triumph
Chrysalis
Jethro Tull had been running for 10 years by 1978. Their commercial fortunes and profile peaked with albums like Aqualung and Thick as a Brick, but their 11th album proved the band was still at a creative peak.
Released in April 10, 1978 in the U.S., Heavy Horses finds Ian Anderson and group taking elements from their glorious past and melding them into a vibrant package, resulting in an album that is unmistakably Tull and exciting.
The band had always exhibited a wide range of influences – from blues to jazz to hard rock to folk – but 1977's Songs From the Wood pushed the folk influences front and center. Heavy Horses continued down a similar path, especially on songs like "Moths" and "Acres Wild," using a folk template in music and words. It was a perfect fit for the band.
Heavy Horses kicks off with " ... And the Mouse Police Never Sleeps," which uses Jethro Tull's trademark flute-and-guitar interplay to dynamic effect, as Anderson's forceful vocal radiates throughout. "No Lullaby," one of the album's more epic tracks, soars thanks to guitarist Martin Barre's dynamic playing. He also slays on tracks like "Weathercock," "Journeyman" and one of the album's best tracks, "Rover," which leans slightly toward prog. Mandolin, acoustic guitar, violin, percussion and, of course, flute, add to the sonic colors that grace the album.
Punk's approaching thunderstorm had no effect on Jethro Tull, who carry on with what they do best. Heavy Horses features lively and energetic performances, as the band retains its identity. But they change things up enough to avoid the rut so many of their peers were falling into at the time. Anderson's lyrical wit and wisdom hits genuine sentiment throughout the record.
Jethro Tull made one more folk-influenced album, 1979's Stormwatch. Decades later, Songs From the Wood gets the most attention from this period, but in many ways Heavy Horses rides ahead of the pack. The songs, production and performances are all first rate and worth rediscovering – or maybe simply discovering for the first time.
Jethro Tull Albums Ranked
From their bluesy beginning to their proggy peak, we take a look at all of the band's studio albums.