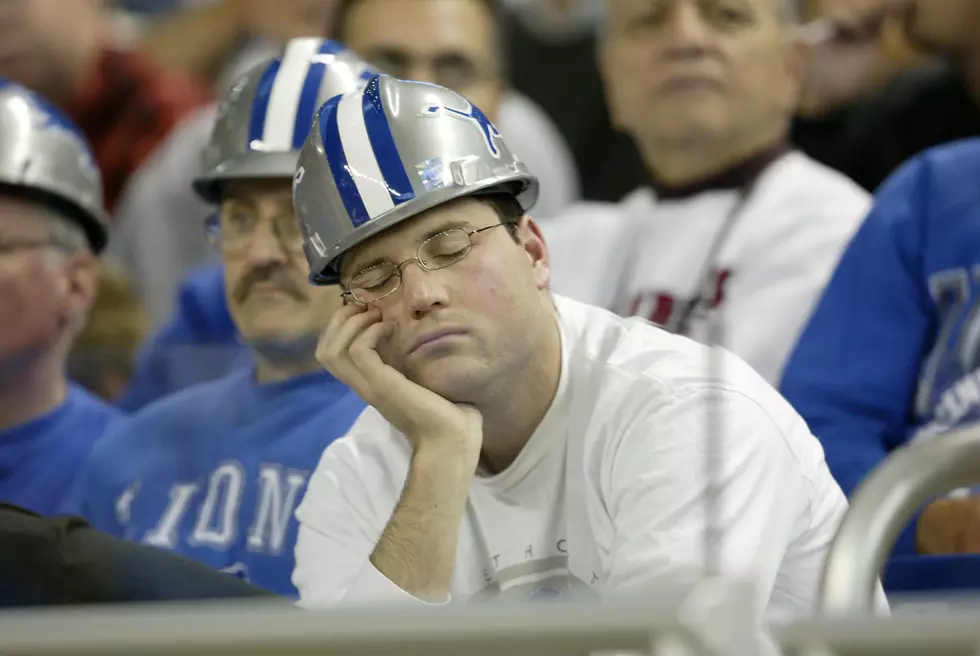 Lions Vs Da' Bears: Our List Of Delusional Expectations
I'm gonna catch a few Z'ss waiting for the Lions to score
The Lions season opens up against the Bears this weekend and there are just a few things you should expect and not expect come Sunday.
For a lot of us who are Lions fans well...it's a new season full of hope. Visions of Lombardi trophy's dance in our heads at night.  That's how delusional we've become. We will scream a mantra of "We can do it boys" with great expectation seeking assurance that THIS will that season of wins we were promised. Expect that those high hopes will be dashed in about the first 10 mins of the game.  The Lions enter this first game of the season banged up and all it will take is one breakaway run or pass to set off a scary series of events in the motor city.  We can't count how many times that has happened to us.
Several drunk A-holes stumbling into you and spilling your $180 beer all over the concourse. It's not to say it won't happen in your home, especially if you're woman is like mine and feels since the covid season started, that busting out a few glasses of Chablis in the early afternoon is perfectly acceptable now. Good news is, you only have her to dodge instead of a stadium full of drunk and disgruntled lions fans.
Bears Quarterback Mitchell Trubisky struggled through most of last year and barely beat Nick Foles for the starting job in the Windy City so you know what that means right? Yep, look for Trubisky to set an NFL record for completions, touchdowns and most pizzas ordered for an NFL locker room celebration. A downtrodden QB finds new life against the Lions - always happens to the Lions and this Sunday will be no exception.
Paying $50 and up to park on the streets of downtown Detroit. Not only do you get to keep your money but you also get to keep your rims, tires, stereo system and anything else you may have left in your vehicle by mistake.
Bears pass rusher Khalil Mack and Lions QB Mathew Stafford will spend some quality time lying closely together side by side on the turf of Ford Field.  I'll boldly predict four sacks for Mack and for Stafford to act like a MMA fighter and purposely hold Mack tight on the ground to stall for time.  Hell, at some point, Stafford maybe so dizzy he may try and tap out.
To be accosted on the streets of Detroit by limbless street performers and dirty t-shirt wearing guys who for some odd reason, come across exclusive "front row" tickets and want to sell them to you. Many claim they take the money you give them and plan on donating it to a local charity. Wow! So generous of them.
Expect me to be half in the bag by halftime and I'll expect to see you Monday morning on WRKR as Stefani and I will go over this list and see how much came true.