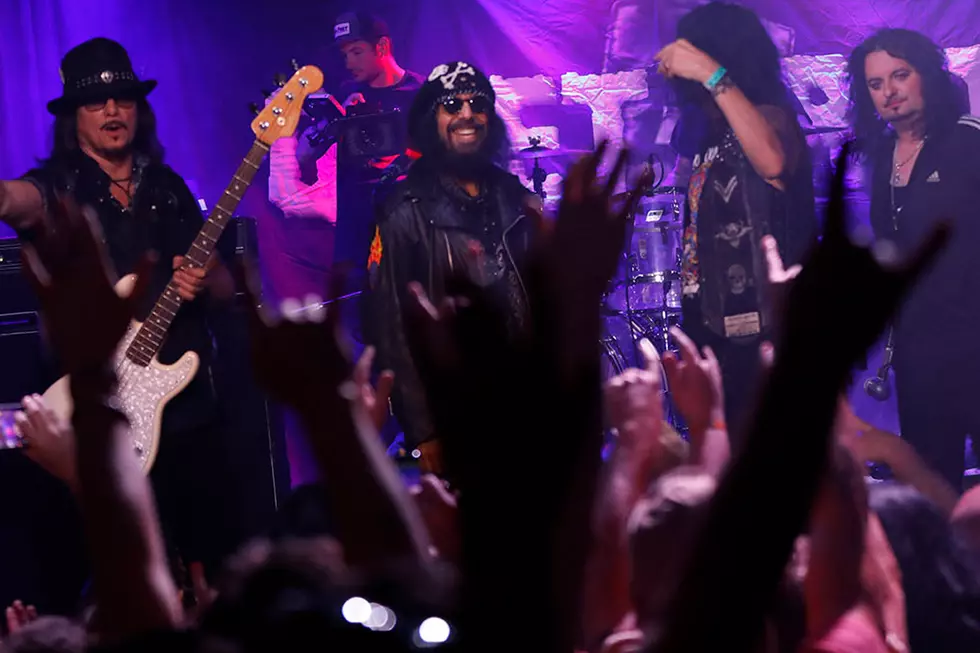 Quiet Riot and Frankie Banali Play Hollywood: Set List, Photos, Video
Alex Kluft, UCR
You can see exclusive photos from the show below, as well as fan-shot video of Banali's emotional speech to the crowd.
"In spite of everything, here I am, alright?," Banali declared to a roar of applause from the packed club. He went on to explain how he found out about his condition, offered some statistics about pancreatic cancer, and implored the crowd to visit the PanCam.org website. "It's really important for all of you to be aware of this and be proactive, they are a great resource for letting you know what to look for."
Banali also offered loving tributes to former Quiet Riot and Ozzy Osbourne guitarist Randy Rhoads, as well "my best friend for 27 years," longtime frontman Kevin DuBrow, before leading the crowd in a moment of silence for his two fallen former bandmates. "This is why Hollywood is the greatest place to play," he said afterwards. "Randy loves you, Kevin loves you, I love you, Quiet Riot loves you, thank you!"
More than half of the Whisky a Go Go set was dedicated to songs from Quiet Riot's 1982 multi-platinum breakthrough album Metal Health, with the remainder either drawn from their 1984 follow up Condition Critical or 1986's QR III.
Last week, Banali revealed that the reason he had missed several recent Quiet Riot shows was that he had been diagnosed with cancer. Despite enduring grueling chemotherapy, the drummer insisted on completing work on the band's upcoming album Hollywood Cowboys, which is due to be released On Nov. 8.
Banali ended his speech on an optimistic note. "Before I was diagnosed, I was strong as a bull. Now I'm as strong as two fucking bulls. I plan to entertain you with my live drumming for some time to come, alright?"
Quiet Riot at the Whisky a Go Go, Oct. 26, 2019 Set List
1. "Run for Cover" from Metal Health (1982)
2. "Slick Black Cadillac" from Metal Health (1982)
3. "Mama Weer All Crazee Now" from Condition Critical (1984)
4. "Sign of the Times" from Condition Critical (1984)
5. "Love's a Bitch" from Metal Health (1982)
6. "Condition Critical' from Condition Critical (1984)
7. "Thunderbird" from Metal Health (1982)
8. "Party All Night" from Condition Critical (1984)
9. "Bass Case" from QR III (1986)
10. "The Wild and the Young" from QR III (1986)
11. "Let's Get Crazy" from Metal Health (1982)
12. "Cum On Feel the Noize" from Metal Health (1982)
13. "Metal Health (Bang Your Head)" from Metal Health (1982)