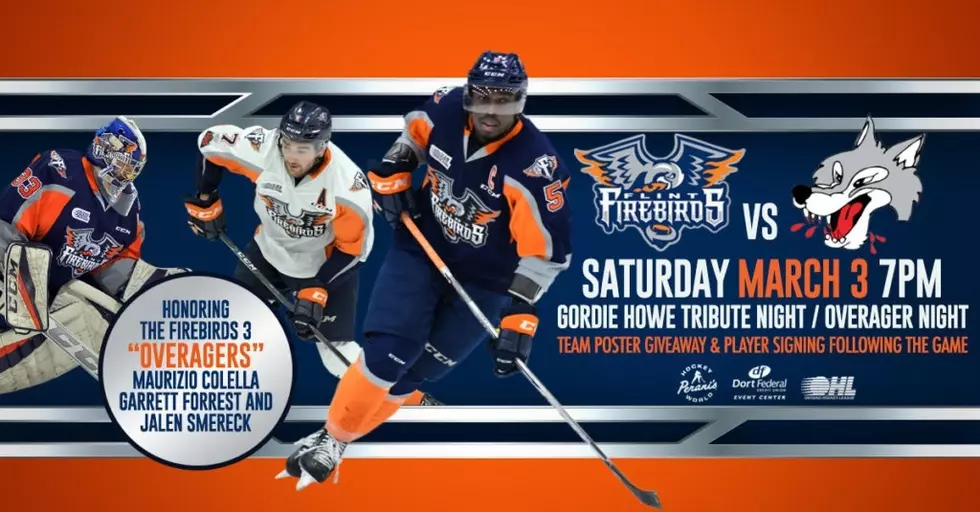 Firebirds Host Sudbury Saturday Night
flintfirebirds.com
With only four home games remaining this season, the Flint Firebirds return to the Dort Federal Event Center to host the Sudbury Wolves on Saturday (3/3) at 7 p.m. Saturday marks the Firebirds' annual team picture giveaway and player autograph session, Gordie Howe Tribute Night and Overagers night.
The first 2,000 fans in attendance Saturday will receive the Firebirds' official team picture poster to get autographed by their favorite Firebirds in the arena lobby immediately following the game. Additionally, 500 t-shirts will be given away to fans throughout the game.
Saturday is also Gordie Howe Tribute Night. Gordie's son, Murray Howe, will be in attendance signing copies of the book "Nine Lessons I Learned from My Father."
Additionally, the Firebirds' three "Overagers," Maurizio Colella, Garrett Forrest and Jalen Smereck will be honored prior to the game. In the OHL, an overager is a player that begins the season at 20 years of age. A team is only allowed to have three overage players on their roster after the trade deadline in January.