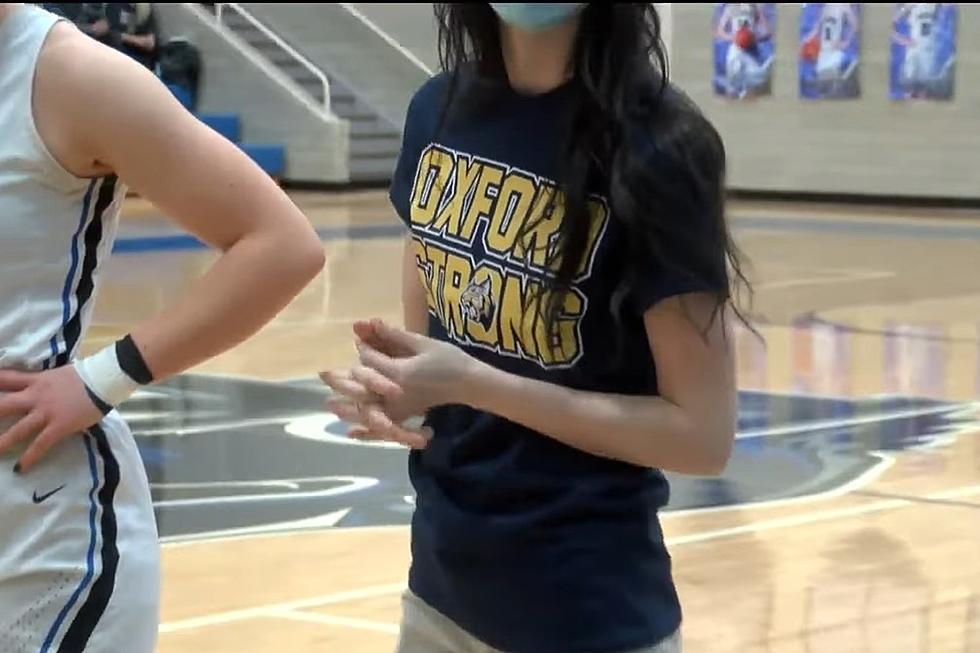 Schools Across Michigan Show Support With 'Stand Up' for Oxford Program
WXYZ-TV Detroit | Channel 7 via YouTube
It was a show of support like none other on Friday night as schools all across the state of Michigan showed their support for the community of Oxford.
'Stand Up for Oxford' is a program that has brought players, coaches, and parents together as communities across the state together showing solidarity and raising money for Oxford High School.
Message Read Aloud at Games Across the State
At sporting events that were held on Friday (2/4) across the state, a heartfelt message was read aloud before each game and a moment of silence was observed.
In the video below, you'll hear a montage of those messages, with clips from several different schools across the state.
The message is powerful and it demonstrates that even when students compete against each other on the court, on the field, or on the ice, they can come together as one big community to show support for their larger community.
Shirt Sales Support the Oxford Community
The MHSAA and the MIAAA have organized the fundraising campaign, selling t-shirts and sweatshirts on this website. Profits from the sales will go directly to the Oxford Community Memorial & Victims Fund. So far, $225,000 has been raised through shirt sales.
Listen to the powerful message below in the video from WXYZ-TV.
"Ladies and gentleman:  On November 30th, an unspeakable tragedy happened at Oxford High School. Schools across Michigan are supporting the Oxford community tonight and all month by dedicating February as 'Oxford Strong Month.' All revenues from shirts purchased at supportoxfordstrong.com will go directly to the Oxford community. Based on shirt purchases to date, over $225,000 has been raised. Join us now for a moment of silence, keeping the students from Oxford High School, their families, and community in your thoughts. We are all Oxford Strong."

 
Flint + Saginaw's Most-Popular TV Anchors - Where Are They Now?
A lot of highly talented people have sat behind the anchor desks at the area's TV stations.
We're taking a look at some of the area's most popular news, weather, and sports anchors who have visited our homes electronically and then moved on.
10 Michigan Cities Ranked by Worst to Best Drivers
Are you a good driver? Maybe your driving skills helped propel your city to the list of the 10 cities in Michigan with the best drivers.
The data was crunched by QuoteWizzard.com, using data from about 500,000 insurance quotes and taking into account the highest and lowest rates for things like speeding tickets, car accidents, and DUIs.
Take A Look Inside 5 Michigan Mansions That You Could Own & Buy In One Deal
This is a once-in-a-lifetime deal for sure,
a historic set of mansions
, that are all being sold together! Take a look inside them, and take a journey into the history of Michigan mansions.