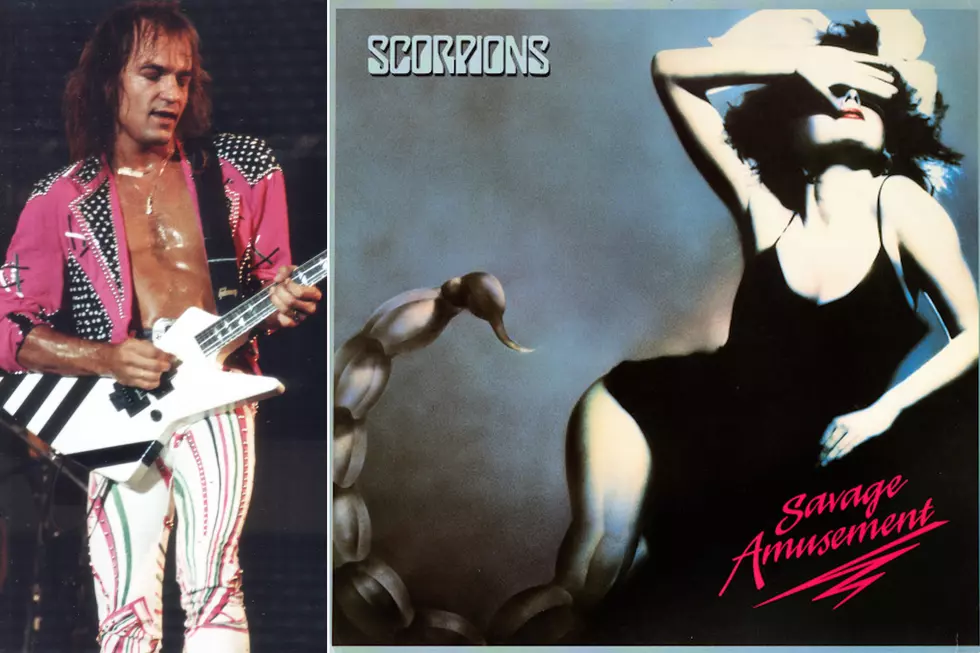 How the Scorpions Briefly Lost Momentum on 'Savage Amusement'
Jim Steinfeldt, Getty Images / Mercury
The Scorpions lost their venom on April 16, 1988 with the release of the disappointing Savage Amusement.
Until then, Germany's favorite hard-rock sons had enjoyed a remarkable run of success since the start of the decade, going toe-to-toe with America's biggest contenders thanks to hit-filled, platinum-selling albums like 1982's Blackout and '84's Love at First Sting. In the process, they became Germany's best-selling rock export ever.
Not bad for a band formed all the way back in 1965 by the guitar-playing Schenker brothers, Rudolf and Michael (who was soon poached by Brit rockers, UFO), and that, once armed with vocalist Klaus Meine and new guitar wizard, Uli Jon Roth, spent the entire '70s painstakingly establishing a solid career in Europe and Japan.
But the commercial rise of heavy metal in the '80s really blew the doors open for the Scorpions, who subsequently made it a habit of packing arenas and blazing up the charts with heavy-rock anthems like "No One Like You, "Rock You Like a Hurricane" and "Big City Nights," as well as tear-jerking ballads like "Holiday" and "Still Loving You."
There seemed to be no reason whatsoever to tinker with this incredibly prosperous formula when the band began working on its 10th studio album, Savage Amusement, with longtime producer Dieter Dierks faithfully directing things from behind the console.
Watch Scorpions Perform 'Believe in Love'
The problem was that Def Leppard's Hysteria had only recently been released, and producer Robert John "Mutt" Lange's meticulously sculpted pop metal colossus immediately raised the bar for all bands (and their ambitious producers) competing in the space, on its way to selling an astounding 10 million copies.
Unfortunately, Dierks was no Mutt and Savage Amusement never resembled more than a pale imitation of its muse's pristine song-smithing and synthetic technological wonders.
Mind you, chosen singles like the tolerable "Passion Rules the Game," the reliable ballad "Believe in Love" and even the comatose "Rhythm of Love" (whose lyrics were painfully banal even by the Scorps' charmingly cheesy standards) still fared relatively well with audiences. But for the band's more discerning faithful – never mind any crusty veterans of those long-gone '70s glories – lifeless, synthesizer-slathered robo-rock of this sort hurt more than, well, getting stung by an actual scorpion. And that's to say nothing of additional offenders like "Don't Stop at the Top" and the shameless Hysteria wannabe, "Media Overkill."
For these fans, the only meager consolation came on Savage Amusement's second vinyl side, to which the LP's lonely displays of fancy-free, stripped-down, ballsy head-banging – "We Let it Rock … You Let it Roll" and "Love on the Run" – had apparently been "exiled," but by then it was a little to late to salvage "Dieter Dierks' folly."
There was also no sugar-coating the box office receipts once Savage Amusement hit record stores, even though it briefly shot into Top 5s and 10s in numerous countries. The album quickly plummeted down the charts to begin a long limp towards only a million in sales. Its predecessor had gone triple platinum, while the Scorpions' next album would go double.
Scorpions Albums Ranked
After more than five decades of rocking like a hurricane, ranking all of Scorpions' studio albums is no easy task.