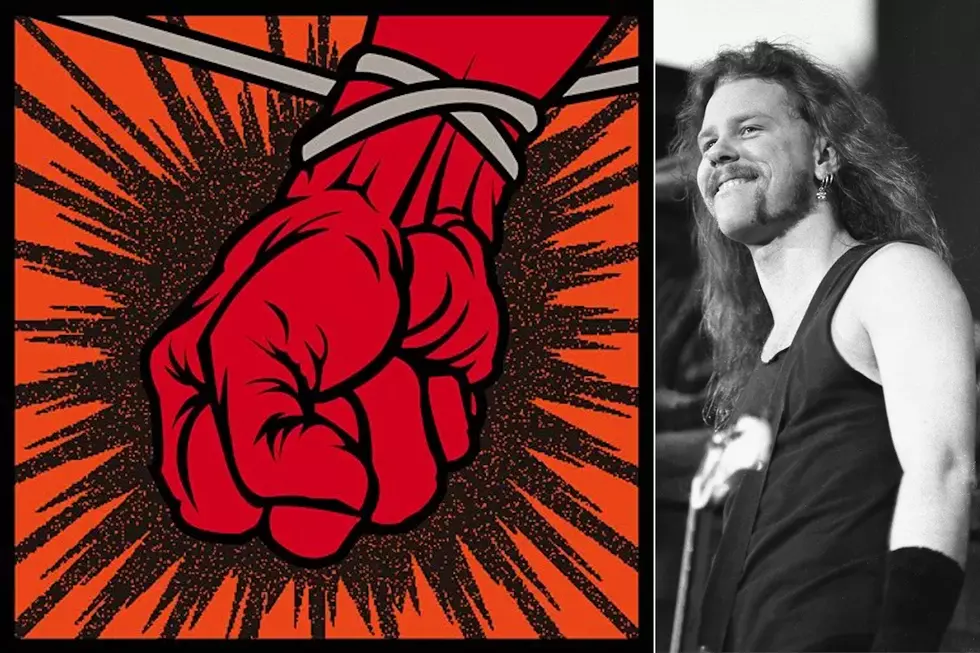 How Metallica Bottomed Out With 'St. Anger'
John Atashian, Getty Images / Elektra
Metallica released their first studio album in six years on June 5, 2003, to the incalculable excitement (and relief) of millions of patient fans. Then these fans actually listened to St. Anger.
It has been said the measure of any work of art can only be properly assessed over a long period of time; and rock history is certainly littered with countless albums that were initially panned, ignored or simply misunderstood, but then achieved retrospective legendary status, several years or even decades later. Not so St. Anger, however.
Even now, with a decade of educated hindsight to put perspective around the album's convoluted creative process (helpfully documented in wince-inducing detail by the accompanying Some Kind of Monster documentary), you'd be hard pressed to find anyone beyond the most sycophantic fan club member capable of conjuring up enough excuses to justify the huge folly of Metallica's eighth studio LP.
How can they? Some Kind of Monster provides vivid, incontrovertible evidence of the band's depths of dysfunction following the departure of longtime bassist/punching bag, Jason Newsted, and the fallout resulting from Lars Ulrich's ill-advised personal crusade against Napster – not to mention James Hetfield's struggles with addiction.
The members of Metallica had grown so out of touch with the music world at large (and technology, specifically) that they somehow decided it was a good time to radically strip their sound of all production values (and even poor Kirk Hammett's guitar solos!), over a decade after Nirvana and their grunge peers had made this a popular trend.
Watch Metallica's 'St. Anger' Video
As things turned out, however, this roundabout strategy to attain some level of garage band spontaneity and counter their historically perfectionist recording process soon backfired into painfully unproductive and drawn-out sessions, during which Metallica essentially forced producer Bob Rock to make sure St. Anger would sound horrible.
Thus was born one of history's greatest musical turds – one that even lifetime Metallica loyalists harboring the best possible intentions inevitably stutter and squirm when attempting to defend it.
At best, one could say that select St. Anger songs, including the title cut, "Frantic" and "Sweet Amber, were much more interesting than the formulaic outtakes that comprised 1997's Reload. But "interesting" didn't equal "good" when discussing tunes like "Shoot Me Again," "The Unnamed Feeling" and "All Within My Hands" – all of them ponderous, overlong patchworks of incoherent lyrics, rattling riffs and tin-can drums. (The worst part is that some truly intriguing James Hetfield riffs are wasted in this mess.)
And though St. Anger would automatically debut at No. 1 in 30 different countries, the consumer and critical backlash was both immediate and unanimous, forcing Metallica to pack ensuing shows with their early thrash classics to help offset the few St. Anger songs they even bothered to perform. Even these would all be quietly dropped from their sets before decade's end.
The hiring of career resurrection specialist, Rick Rubin, to produce Metallica's next, much improved album, Death Magnetic, put the failings of St. Anger into even greater perspective.
Much as everyone would like it to, this particular piece of art has not yet improved with age.
Rock Stars Flipping You Off
There's at least one final vestige of rock's provocative spirit that remains: flipping somebody off.
The Rush / Metallica Team-Up That Slipped Away